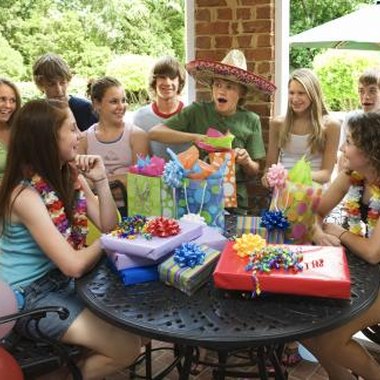 When organizing a party for your 14-year-old, you'll want to plan games that your teen and her guests will enjoy. Consider your 14-year-old's interests and any party themes when planning games for her birthday. This will ensure that the event is pleasantly memorable for everyone who attends.
Sports Games
If your daughter is athletic and loves being outdoors, invite her friends to play a game of soccer or basketball before you serve the snacks and birthday cake. Or, hold your daughter's birthday celebration at a local park. Set up potato sack races and obstacle courses for a birthday party that your teen will remember for years.
Cooking Games
If cooking is one of your daughter's favorite hobbies, plan some cooking games during her birthday party. For instance, bake cupcakes in the flavor she likes best and offer the guests icing and edible decorations. Time the guests to see who can decorate their birthday desserts the fastest. Or, gather all your daughter's favorite desserts or snack foods, and challenge the guests to create a "trail mix" for the guest of honor.
Musical Games
Organize games with a musical theme for your 14-year-old son's birthday party -- such as a karaoke contest. Give the winner a goodie bag filled with homemade treats, like your son's favorite cookie, or an mp3 gift card, so the winner can download his favorite songs. Or, give the guests a minute or two to compose a song about the guest of honor, and award a prize to the teen with the most original song.
Themed Birthday Games
Plan a game that fits the theme of your son's 14th birthday party. For instance, if your teen wants a party with a Mexican fiesta theme, use a pinata, a blindfolded Mexican food tasting, or Pin the Tail on the Donkey to set the mood. Engage the teens in these activities before you serve birthday snacks -- such as mini sombrero-shaped cookies and tacos.
Photo Credits
Thinkstock/Comstock/Getty Images