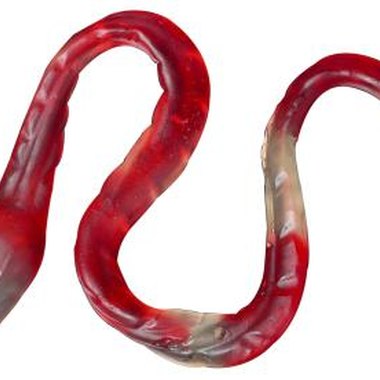 Little boys love creepy crawlies and things that slither. Reptile-themed parties are both fun and cute. Planning a party with a theme of bright green snakes is guaranteed to thrill guests and the guest-of-honor. Snake-themed foods will complement snake invitations and crepe decorations, and games such as pin the rattle on the snake.
Snake Cupcakes
Ice cupcakes in a spiral using a decorator's bag with a wide tip opening. Choose icing tinted green or light brown. Squeeze extra icing toward the center of the cupcake for the head. Use black or dark green decorator gel in a tube to draw scales, triangles and the head, eyes and tongue of the snake on top of the icing. Use plain Bugle snack chips at the end for a rattler.
Gummy Snake Pit
Create a slithery variation of dirt pudding. Take a package of gummy worm candies. Dip the worms in melted white chocolate tinted green. Let the worms cool while you make the pudding. Take chocolate sandwich cookies and crush them. Mix two chocolate pudding packets according to the directions. Place half the cookie crumbs in the bottom of a 9- by-13 pan, and cover it with pudding. Top this with the remaining cookie crumbs. Place the chocolate-coated worms over the pudding as snakes. Chill until it's ready to serve.
Tastes Like Chicken
Everyone has heard that snake meat tastes like chicken when cooked. Slice several chicken breasts into thin, long strips. Batter pieces of chicken and fry them. Decorate a white foam cup with eyes and a red ribbon tongue. Place the "snake meat" pieces in a snake-like pattern on a large oval serving tray. Add a small carrot as a rattle at the opposite end. Serve the chicken as part of a snake-themed meal.
Snake Eggs
Make a large batch of deviled eggs. Tint the yolk mixture with green food coloring and pipe it into the hard-boiled, sliced eggs. Arrange them on a serving platter covered with large pieces of romaine lettuce. Tell everyone these are snake eggs. Spread several plastic Easter eggs around the platter, opened as if you'd cracked them to get the eggs out. Green eggs look best.
Snake Cake
Bake two regular cake mixes in bundt cake pans. Cut each cake in half after they cool. Arrange the four pieces in a slithering manner on a large cake platter. Ice with green or light brown icing, and add scales with decorator gel. Create eyes from candy and add a licorice tongue.
Photo Credits
Hemera Technologies/PhotoObjects.net/Getty Images