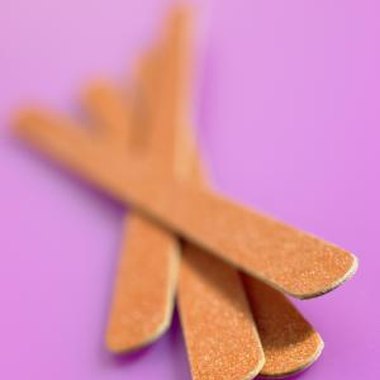 Putting together favors for a women's conference is not an arduous process if you have a theme and stick to a budget. It only takes a few products to fill the goodie bags and enhance the conference experience for the participants. Individually wrapped hard candy and mints are a tasty filler for gift bags. Party favors are often at the table to welcome the guests to the conference or are presented as a farewell token of appreciation for attending the event.
Nail Care
Healthy looking nails are an attribute for business women as well as homemakers. A gift bag filled with nail care products, such as emery boards, cuticle sticks, nail clippers, cuticle cream and even toenail separators are products that many women use on a regular basis. A clear top coat of polish, a couple of bottles of nail color and handy nail polish remover wipes are also a wise addition to the gift bag.
Spa Products
Business women and homemakers often have little time to pamper themselves, therefore a party favor bag full of miniature and full size spa products is a thoughtful prize for the participants. Scented hand and body lotions, a shower cap or cloth turban, a votive candle and holder and bubble bath are all useful items for this type of gift. Scented bath oils, facial masks, an inflatable bath pillow and bath salts add glamour to the gift. Gourmet chocolates, flavored teas and coffees are special treats you can include as well. (see ref 1 graf 3)
Useful Business Items
Whether the woman works in an office or at home, office supplies are always necessary for the desk and bill paying area. Post-it notes, ink pens, a desk organizer or pencil holder, a tape dispenser, a hole punch, note flags and highlighters are office products that many people find useful. Other additions to the party favor bag may include hand sanitizer, lip balm, pocket-sized tissue packs, small picture frames and stain remover wipes or sticks.
Organizer Products
Place the party favors in a fanny pack or small tote bag for a practical and useful container. Include key chains, mini photo albums, a small sewing kit, safety pins and a miniature first aid kit. Other options are an attractive business card holder, a purse hook to keep the attendees bags off the floor in a restaurant or other public place, a small umbrella or rain bonnet and a universal cell phone charger.
Photo Credits
BananaStock/BananaStock/Getty Images