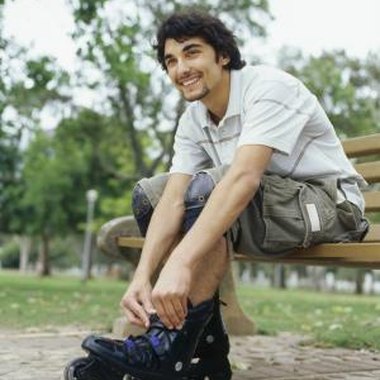 A roller-skating party for a 40th birthday celebration means lots of fun ... and sore muscles for family and friends. Match the nostalgic memories of roller-skating with a humorous "over the hill" theme to create an atmosphere full of humor and great memories. Party favors for the event can reflect a combination of roller rink imagery and the pains of growing older. Whether you purchase giveaways or make them yourself, your exploration of this humorous combination means your party favors will delight and amuse guests long after the lights in the rink come up.
Black Accessories
Black is a typical "over the hill" 40th birthday party color theme and you can incorporate this idea into your roller-skating plan. Novelty roller-skating pom-poms in black easily tie onto the laces of rental skates to pay homage to the guest of honor's advanced age. Make the pom-poms even more customized by sewing in or gluing on small vulture-shaped buttons or "charms" that you can buy at a craft supply store. Black shoelaces customized with the guest of honor's birthdate or name could also be given as useful party favors.
Medic Goodie Bags
Although your birthday guy or girl may be in good shape, mocking the 40 year old's advanced age is par for the course for a birthday party. The guest of honor may be starting to feel some aches and pains as they go through life, and a light-hearted approach to the growing complaint list can be reflected in the party favors. Dress up a plain paper bag with vintage roller skate images of adults from the 1950s or later. Fill the bag with comical items like aspirins, Band-Aids, sore muscle ointment and ice packs to reflect the effects of roller-skating on those of the "monumental" age of 40. Add candy treats to complete the party-favor keepsake. You can also hand out candy aspirins or cupcakes with the Red Cross symbol on them to further enhance the theme.
Roller Derby Novelties
A 40 year old likely already has family and career responsibilities, but there is still plenty of time for fun. Although roller derby isn't for everyone, it's a fun spin to put on your 40th birthday roller-skating party favors. Roller derby can be defined as the adult version of roller-skating, and some derby-related novelty items will make festive giveaways for friends and family. Stickers that claim "It's better to be knocked down than knocked up," and sexy roller derby girl cartoon characters are inexpensive, theme-related favors that can be wrapped around candy bars or just laid out on the food tables to both decorate and serve as party favors. Customize this roller-derby theme by incorporating personal details about the guest of honor into her "derby name" and make a special T-shirt made for her to wear. For example, a soccer mom could wear a shirt that designates her as "soccer Sally" and features a screaming and crazed-looking roller derby "chick."
Oldies but Goodies
Roller skating can be a nostalgic way to entertain guests for a 40th birthday party, and many people who lived through the roller-skating craze will remember the role roller skating played in pop culture. Now released on DVD, theme-related movies like "Xanadu" and "Rollerball" are inexpensive enough to use as prizes for party games, while roller rink music CDs can be produced at home and "burned" to delight friends on their drive home. Music download gift cards for a few dollars each will be enough for partygoers to download their favorite rink tune. Wrap gift cards with customized 40th birthday party roller rink images and text to make them more special for guests.
Homemade
Use your computer and home printer to make customized wrappers for candy bars and sore muscle ointment or aspirin bottles. Use humorous photos of the guest of honor roller-skating as a kid,or vintage photos or cartoons of more mature folks on skates. Use photo-editing software to place the birthday boy's face on comical photos of skaters doing impossible skate tricks or on screen shots from "Xanadu," transporting him into the skin tight lycra of the past. Print out the images on regular paper and trim to fit a variety of inexpensive party favor treats.
Photo Credits
George Doyle/Stockbyte/Getty Images