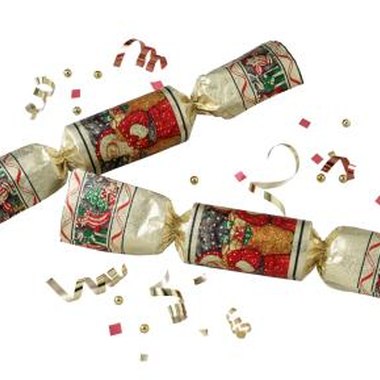 Party favors are a fun way to show guests your appreciation for their presence at your event. Follow party favor etiquette to ensure that each guest receives a small memento by which to remember your party. When deciding on favors, first consider your budget to ensure every guest receives a favor. Then, consider the theme of your party. Favors given at baby showers, birthday parties or bridal parties, for example, will all follow very different themes.
Age-Appropriate
Give age-appropriate favors at your party. For example, if you are hosting a small child's birthday party, provide child-friend party favors that do not present any choking hazards.
Guest Diversity
If you are hosting a party with a mixture of ages, color code the bags so that the children get one color and one set of favors and adults get another. For example, give children toys and adults candles or soaps. Make the party favors unisex so that men and women alike will enjoy their goodies. For children, color code the bags -- blue for boys and pink for girls, and give each gender different toys.
Quantity
Provide enough party favors to ensure every guest receives one. Include an RSVP option on your invitations and follow up with invitees you have not heard from a few days before the party. Once you have a rough number of guests who have committed, order your party favors. Always order extra, because sometimes people will be able to make it at the last minute. If your party is for small children, they may often bring their siblings along unannounced. Do not leave anyone out. Generally, each person should get their own favor, rather than giving one favor for an adult couple or a family to share.
Thoughtfulness
Avoid giving out cheap gifts that will be forgotten or broken minutes after the party. A good rule of thumb is to only give out favors you or your children would like to receive. This doesn't have to be expensive -- a few homemade cookies wrapped in nice paper or a mix CD would be appropriate treats for your guests and will cost less than a bag of toys. Match your goody bag with the theme of the party.
Photo Credits
Brand X Pictures/Brand X Pictures/Getty Images