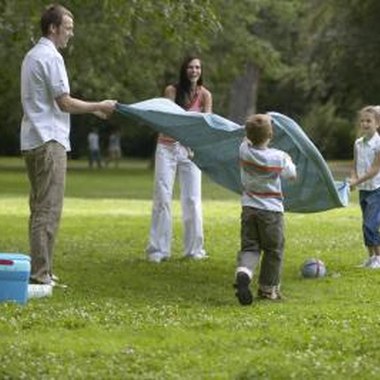 Anoka, Minnesota is a suburb of Minneapolis and is located at the meeting point of the Mississippi and Rum Rivers. The city features numerous parks for residents and visitors to use, each with different amenities. For those who are looking for parks with playground equipment and picnic areas, the list of available parks is a little smaller.
Mini Parks
If you are looking for a smaller park in which to enjoy a picnic lunch and allow your children to run around and play, two Anoka parks qualify as mini parks: Garfield Tot Lot and Grant Tot Lot. The Garfield Tot Lot is located on Garfield Street and features open shelters along with the park and picnic grounds. Grant Tot Lot is located on 9th Avenue and Grant Street. In addition to the playground equipment and picnic area, this park features open shelters, as well as an open field in which to play.
Neighborhood Parks
Neighborhood parks in Anoka are aimed at serving specific neighborhoods within the city. Five of the Anoka neighborhood parks contain both playgrounds and picnic areas for the ideal picnic location for families with young children. These are Brisbin Park, which is found at 11th Avenue and Brisbin Street in the southeast corner; Highland Park at Euclid Street and Garfield Street on the west side; King Park, located at Park Street and Porter Avenue on the west side; Rick Sorenson Park, which is found on State Street in the southwest corner of the city and Rudy Johnson Park on Polk Street near the center of the city. Some of these parks also offer additional amenities, such as hiking trails, sports fields and open areas.
Community Parks
Some parks in Anoka serve entire communities of people, rather than specific neighborhoods. Some of these parks also feature both playgrounds and picnic areas for families. Four of the Anoka parks meet this criteria. George Enloe Park can be found on Lund Boulevard in the northwest corner of the city. George Green Park is located at 6th Avenue in the southeast corner of the city. This park also features an aquatic center and senior center. John Ward Park is located on Forest Avenue on the west side of the city. Sunny Acres Park can be found on Colfax Avenue on the east side. These larger parks often contain bathrooms and sports facilities.
Community Nature Parks
Similar to the community parks, the community nature parks offer visitors a combination of a community park with the tranquility of nature. Two of these parks also feature both a playground for the children and a picnic area to enjoy lunch. Akin Riverside Park is at the corner of Park Street and West Main Street along the Rum River. Mississippi River Community Park is located along the Mississippi River on Cutters Grove. Both parks give visitors a view of the river while they play and eat.
Special Use Parks
The Peninsula Point Two Rivers Park is considered a special use park by the city of Anoka. It can be found at the point where the Rum River runs into the Mississippi River on Ferry Road. This park is a historical park as well. In the past, it had been a sewage treatment plant. However, in 1995, the city purchased the land and changed it into a beautiful park, perfect for families.
Resources
Photo Credits
Jochen Sand/Digital Vision/Getty Images