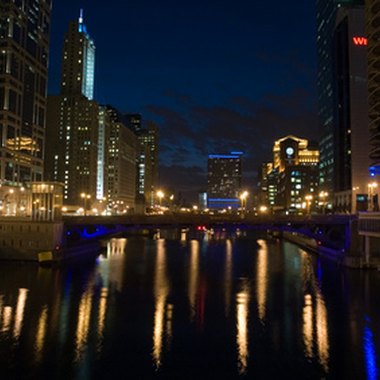 Purchasing a park and ride package at a hotel near O'Hare International Airport can make your travels easier. These packages allow you to safely park your car at the airport while you are away and return to the convenience of your own vehicle upon arrival. Keep in mind that not all hotels offer park and ride and not all park and ride packages are created equal.
Renaissance Chicago O'Hare Suites Hotel
The Renaissance Chicago O'Hare Suites Hotel offers a "Park Here, Fly There Package" that includes accommodations, parking and 24-hour transportation to and from the airport. Rooms at this all-suites hotel feature a four-outlet technology console that allows guests to hook-up their iPod, laptop and other electronic devices to the flat-screen TV. The on-site restaurant serves American cuisine and the Starbucks serves coffee in a casual setting. The hotel lies just off of Interstate 90, within walking distance of the Cumberland Blue Line subway station with direct service to downtown Chicago.
Holiday Inn Chicago O'Hare Hotel
The Holiday Inn Chicago O'Hare Hotel's "Park and Fly Package" allow guests up to 14 days of complimentary parking plus free transportation to and from the airport. The on-site ticket kiosk lets guests print their boarding passes out before leaving the hotel. All 300 guest rooms were renovated in 2007, giving them a vibrant and colorful appearance; flat-screen TVs and complimentary wireless Internet come standard. Guests can dine at the casual on-site restaurant or at any of the many nearby chain and independent eateries. The hotel is just 2 miles from the airport, near I-90 and the Cumberland Blue Line.
Crowne Plaza O'Hare
Located just 1.5 miles from the airport, the Crowne Plaza O'Hare's "Stay, Park and Fly Package" includes a complimentary, 24-hour round-trip shuttle service and 10 days of parking. Guests can walk to the CTA's Rosemont Blue Line station. Guest rooms have a stylish, contemporary design with muted colors and large windows. In-room amenities include high-speed Internet, Wolfgang Puck coffee makers and blackout drapes. Guests in need of an extra-silent night can request a room on the hotel's designated quiet floor. The indoor pool and fitness center provide recreational opportunities and the business center offers printing, faxing and photocopying.
Hilton Chicago O'Hare Airport
When it comes to staying near O'Hare, no hotel puts guests closer than the Hilton Chicago O'Hare Airport. Guests stay directly on the airport property just a short walk from the three domestic terminals. The hotel's parking package saves guests up to 65 percent, but allows only three nights of valet parking. The lobby's self-check-in kiosk adds to the overall convenience. The hotel stands in a no-fly zone, so no planes fly directly overhead; still, every guest room feature soundproofing. Guests can dine at the on-site restaurant or enjoy the game on one of the many TVs in the sports bar.
Photo Credits
chicago river at night image by Patrick Warneka from Fotolia.com