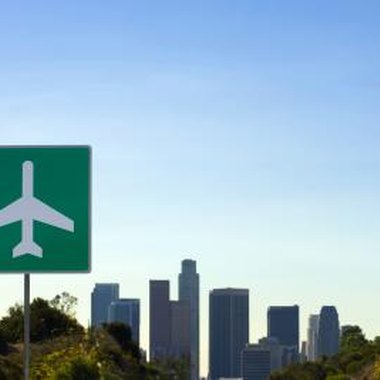 The price of parking at Los Angeles International Airport (LAX) can add up quickly, whether you are planning on leaving your car for just a few days or for a week or more. A savvy traveler who has to drive into Los Angeles and get a hotel room before his flight knows to look for accommodations that will offer free vehicle parking for the duration of his trip. These accommodations are commonly known as Park 'n' Fly hotels, and a number of them can be found around LAX.
Hilton Los Angeles Airport
The Hilton Los Angeles Airport is located only a quarter of a mile from LAX and provides complimentary shuttle service to and from the airport. In addition, it has a Park 'n' Fly package that allows guests to leave their cars in the hotel's secured covered parking area for up to seven days for free. For each additional night, the hotel charges $12. This price, as of 2010, was less than on-site airport parking fees. The hotel has more than 1,200 rooms and suites that are equipped with double-paned windows to cut down on the noise from the airport and streets. Pets under 75 pounds are allowed at this Hilton with a non-refundable $50 as of 2010, making it a good choice if you will be flying with pets.
Hacienda Hotel
At the 630-room Hacienda Hotel in El Segundo, you can leave your vehicle for up to 14 days free if you book one its Park, Room and Fly packages. Extra days can be purchased for $6 a night. This charge is as of 2010 and is lower than the daily parking fees charged at the airport. The Hacienda, which has a Spanish theme running through its decor and graceful courtyards, also offers a special room rate for those who want to stay the night after they return from their air travel and have already purchased the park-and-fly package before their trip. This package is called the Return, Park and Fly. The Hacienda also offers free shuttle service to and from the airport.
Radisson Hotel at Los Angeles Airport
This Radisson Hotel offers both seven- and 14-day parking packages that include complimentary valet parking. Additional nights were $20 each for both packages in 2010, and complimentary shuttle service is available to and from the hotel. The Radisson's rooms feature free high-speed Internet connections and bathrooms with granite counter tops and marble floors. Pets are allowed, but they must be under 25 pounds, and there is a limit of two pets. A $150 deposit was charged as of 2010, but is refundable at checkout if the hotel deems your pet has not damaged the room.
Four Points by Sheraton Los Angeles Internationl Airport
The Four Points by Sheraton offers three- and seven-day park-and-fly packages that include complimentary parking at the hotel, shuttle service to and from the airport and also a free cup of coffee at the hotel. Extra days of parking were available for $16 a day as of 2010. The seven-story Four Points also has a shuttle service to tony Manhattan Beach for a $5 round-trip charge -- 2010 pricing. The shuttle stops at the Manhattan Beach Pier, which is near many fine restaurants and chic boutiques, the Manhattan Beach Village Mall and the Plaza El Segundo shopping center.
Photo Credits
Siri Stafford/Photodisc/Getty Images