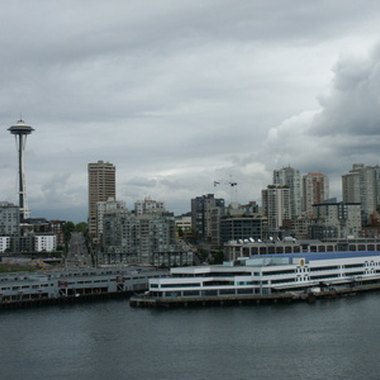 SeaTac International Airport is located between the two cities of Seattle and Tacoma, serving a wide population in the Puget Sound area. With expensive parking rates at or near the airport, many departing travelers from SeaTac have discovered the convenience and cost effectiveness of staying overnight in nearby hotels that offer free parking while they are away. Complimentary shuttles deliver passengers to the airport terminals, allowing them to avoid long commutes in heavy traffic on the day of departure.
Logistics
SeaTac International airport is located at the junction of interstates 5 and 405, with older Highway 99 running along the east side of the airport. Known as International Boulevard when it passes through this section of the city, it is where travelers find the closest "park and fly" options. The hotel shuttles drop off and pick up passengers 24 hours a day, at islands One and Three on the third level of the parking garage. A ground transportation information booth is also located here for advice and access to other parts of the city.
Economy Hotels
Hotels near the airport that offer the "park and fly" packages vary widely in amenities, style and price. Economy choices include the Econolodge, located one mile from the terminal, with parking packages of five, seven or 10 days following the paid night of accommodation. Just off International Boulevard and still less than a mile from the airport, the Super Eight hotel on 192nd Street offers free breakfast and a seven-day parking package, with extra days available for an added fee.
Mid-Range and Upscale Hotels
Properties that fall in the mid-range or upscale categories include the Best Western Airport Executel and the Coast Gateway, both on International Boulevard, with parking packages ranging from seven to 14 days. Other convenient locations are the Radisson at the entrance to the airport, and the Red Lion, which is just steps from the runway. The Holiday Inn is directly across the street from the airport and close to the platform for the new light-rail service into downtown Seattle.
Nearby Locations
If shopping and nice restaurants are something that you have time to indulge in before or after your flight, the Westfield Southcenter Mall in the nearby city of Tukwila is just three miles from the airport, with several hotels in the area offering the "park and fly" options. The Courtyard Marriott Southcenter allows guests to park free for up to 14 days, with a 24-hour shuttle service. The Marriott Towneplace Suites in the city of Kent is also just three miles from the airport, with parking options that sometimes even include unlimited days, with special promotional codes available on their website. (