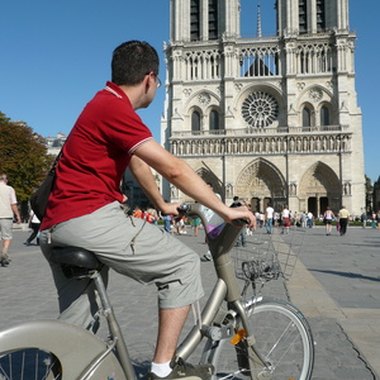 The City of Light, sometimes called the "city of 100 villages" because of its 20 different districts, offers a multitude of hotels that far surpasses its number of villages. Hotels in the central part of Paris are within walking distance of many tourist attractions and a subway station.
Grand Hôtel Dechampaigne
Built in the 16th century, the Grand Hôtel Dechampaigne helped set the standard for French hospitality. Located on the corner of Rue Jean Lantier and Rue des Orfevres, the soft architecture of the Grand Hôtel Dechampaigne combined with the Louis XV- and Louis XVI-style rooms and exposed beams and stones bring out the charm and romance in the building that was once a mansion. The hotel is close to the Ile de la Cité and within walking distance of the Louvre, Marais quarter, the Cathedral of Notre-Dame de Paris, Saint-Germain-des-Pres, Jardin des Tuileries, Place de l'Opera, the Bastille district and public transportation. The renovated rooms at the Grand Hôtel Dechampaigne have a separate living room and sleeping quarters with a large, canopied four-poster bed.
Grand Hôtel Du Palais Royal
Situated in an 18th-century stone building, the Grand Hôtel Du Palais Royal is located in Paris' first district, among old buildings and tourist shops. It is located a short walking distance away from the Palais-Royal Metro station, antiques shops, the Galerie Vivienne, Louvre and the Jardin des Tuileries. The old exterior of the building is not a reflection of the modern rooms within the hotel's walls. The hotel offers its guests Roger & Gallet bathroom products and a daily buffet breakfast.
Hôtel Left Bank
Surrounded by quaint restaurants, cafes and galleries, the Hôtel Left Bank sits in the heart of Paris' Saint-Germain district. The hotel faces the house the playwright Molière once occupied and is just a few minutes away from the cafe Les Deux Magots and the Latin Quarter. Waxed, antique wood, floral wallpapers and tapestries line the walls of the hotel, and fine rugs and tile line its floors. The rooms range in size from a standard to suites large enough for four people. Some of the rooms in the Hôtel Left Bank have patio and/or window views that overlook Notre-Dame Cathedral.
Villathena
The Villathena , which made its debut in 2007, is situated in a building constructed 1893, in one of the Paris' trendiest districts that is known for its chic boutiques and fine restaurants. Tourist attractions that are close to the hotel include the Saint-Lazare train station, Opéra Garnier, Musée Grévin, Moulin Rouge, Museum of Romanticism and the Casino de Paris. The Villathena blends decor inspired by ancient Greece with the simplicity of modern interior design.
Photo Credits
Visite de Paris en vélo - Vélib' devant Notre Dame de Paris image by Stéphan SZEREMETA from Fotolia.com