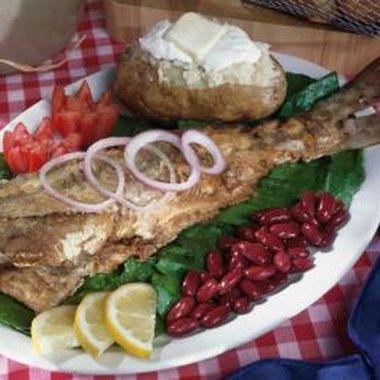 The town of Paris in north central Tennessee invites visitors to come to their yearly fish fry festival. The week-long festival has events and activities for people of all ages. The highlight of the festival is the fish fry, served from Wednesday through Saturday, which ensures that visitors can enjoy plenty of fresh Tennessee catfish from nearby Kentucky Lake.
About Paris
Paris, a town in north central Tennessee just 86 miles west of Knoxville, offers a taste of small-town living while providing all the amenities and conveniences of a larger metropolitan area. The town, situated on the West Sandy River, has a well-organized municipal council and Chamber of Commerce that promote the city's activities and economic development.
The Fish Fry
Kentucky Lake, a 30-minute drive from Paris, offers a wide variety of species for fishermen, including channel, blue and flathead catfish. Taking advantage of the proximity to Kentucky Lake and its popularity among fishermen, the city of Paris began operating a yearly fish fry in 1953. The local Jaycees took over the fish fry's operation in 1961 and, since then, its popularity has grown. The festival now serves over 12,500 lbs. of catfish each year at the Robert E. "Bobby" Cox Memorial Fish Tent. Billed as the "World's Biggest Fish Fry," the Paris fish fry takes place during the last week of April of each year.
Festival Events
During the week-long festival, Paris invites festival visitors to attend events such as beauty pageants, a rodeo, the Grand Parade and the Small Fry Parade. The festival sponsors a 5k walk called the "Hushpuppy Dash." A demolition derby, street dance, arts and crafts show and carnival with childrens' rides complete the exciting week-long festivities.
Paris Area
In addition to the annual fish fry, visitors to the Paris area have a wide variety of attractions and activities to explore in the area. Travelers may spend time shopping or having a leisurely meal at one of the town's eateries. A visit to Paris may include stopping off at sites such as the Paris Winery or the Tennessee National Wildlife Reserve V.L. Child's Observation Deck. Individuals who like the outdoors can head outside of town to explore and hike the Bennett's Creek Overlook or the Chickasaw National Recreational Trail. History buffs may visit the Paris-Henry County Heritage Center in Paris's North Poplar Historic District. The Center exhibitions depict the history of Henry County and include an oral history video library and a tape-guided historic walking tour of downtown Paris. Each June the Triton Boat Owners Tournament launches from the Paris Landing, allowing participants to compete to see who can catch the largest fish.
Photo Credits
Jupiterimages/liquidlibrary/Getty Images