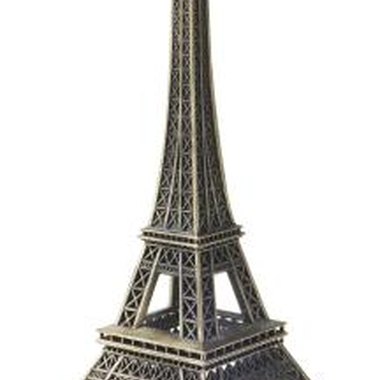 A Paris-themed party is a great excuse to transport your family and friends to a legendary time and place with sensual beauty and decadent flavors. When you pay homage to the classic architecture and culture of the City of Light through your party decorations, you provide your guests with an experience they won't soon forget. Whether you go big with the Eiffel Tower or play it low-key with a bistro experience, your Paris-style party decorations will set the tone for a great evening.
Classic Architecture
Some of the most famous attractions in Paris are spectacular architectural achievements, and you can replicate some of these hot spots for your party décor. Landmarks like the Eiffel Tower, Arc de Triomphe and the glass pyramid at the Louvre are instantly recognizable and are available from party suppliers in three-dimensional replicas or posters. Mirror the silhouettes of these great structures in sugar cookie cutouts, decorated cupcakes and other edible delights. Carry the theme with your invitations and party favors as well.
Bistro Chic
Reproduce the look and feel of a French bistro when you decorate your Paris party. Use small round tables and outdoor iron chairs to set up your café, and then pile tables high with mouthwatering croissants, Brie, crepes and carafes of wine or coffees. Use a chalkboard to list your "menu" or to supply guests with a few English-French translations. Use some French street-scene posters or murals to complete the party-room transformation.
Fleur de Lis
This three-armed stylized lily icon has represented French royalty for centuries, and is a symbol used throughout France and sister cities in the United States. When you use the fleur-de-lis emblem on your paper products, party banners and balloons, you bring an instant sense of French history and culture to your party. The fleur-de-lis symbol can be placed on cupcakes, name tags, place settings and party-favor bags with stencils or stamps. Since the symbol is often used on Mardi Gras beads or decorations, finding items with the fleur-de-lis shouldn't be difficult.
Toulouse-Lautrec's Paris
Even the most casual observer can recognize the style of French artist Henri de Toulouse-Lautrec. Best known for his studies of dancers and entertainers at places like the Moulin Rouge, the artist's work was used for countless advertising posters for these shows during the late 1800s. When you style your Paris party after the Can-Can dancers and flamboyant costumes and colors from Toulouse-Lautrec's illustrations and paintings, you bring a rambunctious and festive feel to the event. Use poster-sized reproductions of his "Jane Avril, Jardin de Paris" and " La Troupe de Mlle Eglantine" to decorate the room, then enhance the décor with feather boas, a Parisian stage (set up for karaoke) and vintage costumes from the era. Accessorize the tables with anything bodacious and slightly naughty for 1800s sensibilities such as lacy garters, corsets and miniature prints of some of Toulouse-Lautrec's other works.
Resources
Photo Credits
Photos.com/PhotoObjects.net/Getty Images