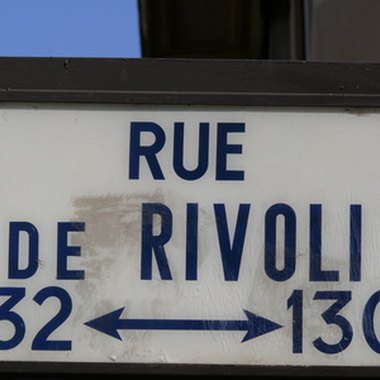 Rue de Rivoli, a major street in Paris, runs from the intersection of rue de Sevigne on the east to Place de la Concorde on the west. Traffic on this one-way street goes west. Here you find many commercial shops as well as hotels that are convenient to the Louvre, Tuleries and Notre Dame.
Hotel Brighton
Simple, modern furniture adorns the Hotel Brighton, located across from the Jardin des Tuileries. The entry to this hotel is tucked under an arched arcade sidewalk, as is typical of many buildings along this street. Enjoy a continental breakfast at the hotel, then consider one of the eateries in the Tuileries for lunch. Chez Flottes, a brasserie close by, serves fish, seafood and beef dishes for lunch and dinner. Walk to the Louvre and Place de la Concorde, and when you want to venture farther, the Tuileries metro is across the street from the Brighton.
Hotel France Louvre
Hotel France Louvre, near the eastern end of rue de Rivoli, sits a couple blocks north of Ile de la Cite, putting Notre Dame and Sainte Chapelle within easy walking distance. This modest hotel offers a buffet breakfast of pastries, fruits and cold meats, served in a breakfast room with an arched stone ceiling, typical of the smaller hotels in this historic Marais district. Dine at the nearby Le Framboisy for bistro foods and specialty wines, or L'As du Fallafel for crispy, juicy falafels.
Le Meurice
Le Meurice hotel on rue de Rivoli falls into the luxury category with its elegant and highly decorated lobby, restaurant, rooms and suites. Expect top-notch service and extras here. Le Meurice has an extensive program for children, geared for the younger set and the teen set. They receive special amenities including robes and bath slippers, treats upon arrival, and planned visits to Jardin d'Acclimatation with its playgrounds, mini-golf and children's art museum, or rides on the Bateaux Mouches down the Seine River. Across from the Tuileries Gardens, Le Meurice is convenient for sightseeing by foot. Walk to Place de la Concorde, then explore the Champs-Elysees beyond. Splurge on dinner in the very formal Restaurant Le Meurice or socialize in Bar 228, within the hotel.
Hotel Paris Rivoli
The Saint Paul metro and the Hotel de Ville metro serve this small, 29-room hotel in the Marais district. Surrounded by the old Jewish neighborhoods and home to many museums as well as trendy delis, cafes and bistros, this hotel sits between Place de la Concorde and Place de la Bastille. Visit the Bastille square, the site of the historic prison that was infamously stormed on July 14, 1789. This event set the celebration date for all of France that is similar to our July 4th. Try the Don Giovanni Restaurant for spaghetti, linguini and scaloppini accompanied by red, white or rose wine. Also within walking distance, La Tartine offers bistro foods and a wine bar.
Resources
Hotel France Louvre; 40 rue de Rivoli; 75004 Paris; +33 01 42 71 29 28
Photo Credits
rue de rivoli 132-130 image by Bruno Bernier from Fotolia.com