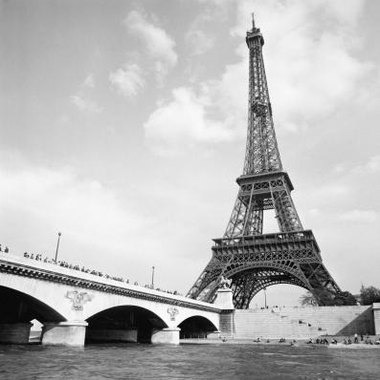 If you can't travel to Paris for your special day, then do the next best thing and have a Paris inspired birthday celebration. For a kids' Paris party, provide European-themed activities that will make them feel tres French. A Paris-themed party can be a blast for girls of all ages and craft activities will add to the party environment.
Cookie Decorating
Provide each party guest with a few sugar cookies. Create the sugar cookies with Parisian cookie cutters shaped like the Eiffel tower or poodles. Lay out squeezable tubes of frosting, sprinkles and candy that guests can use to decorate their cookies. Petit four cakes work for this project, too. After everyone is done decorating their gourmet French desserts, package them in pretty boxes for guests to take home when the party is over.
Pink Poodles
For younger guests, decorating pink poodles can be fun. Print off templates of a pink poodle or let guests be creative with pink cotton balls and school glue. Have google eyes, strips of ribbon for leashes and lots of embellishments such as glitter, sequins and beads that guests can use to make their own French poodles. Have them name their poodles and write the names on each guest's poodle with fancy script.
Parisian Hats
Paris is full of fashionable hats, and everyone can have her own with this craft project. Give each child a plain hat or beret, along with a lot of craft supplies. Have a parent or adult standing by with a hot glue gun to help decorate the hats with artificial flowers, ribbons, lace or other items such as glitter glue and buttons and beads. Do this project at the beginning of the party so the hats will be dry when it is time for guests to leave.
Painting A Masterpiece
It may not be the Mona Lisa, but guests can create their own masterpieces with paints and large paper. Let each guest paint her own portrait, and frame the portraits with frames that were made before the party using pieces of poster board. Use double-sided tape to adhere the pictures to the frames and guests will take their framed works of art home as party favors.
Photo Credits
Hemera Technologies/AbleStock.com/Getty Images