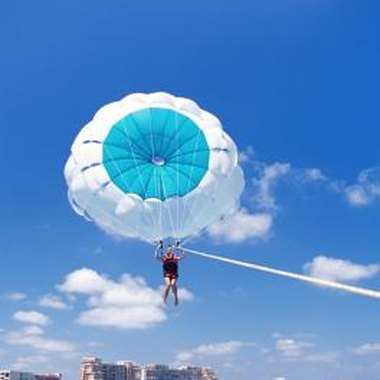 With powder-white sand beaches and sparkling turquoise water that is as clear as the cloudless skies above, visitors to Puerto Aventuras, Mexico, probably have their shoes off more than on and spend more time in their bathing suits than any other clothing brought from home. Visitors to this luxury resort that has1.5 miles of private beaches and a marina spend a lot of time outside, with many seeking adventure, as the resort's name implies. There are many outdoor activities to choose from, including parasailing, which gives thrill seekers a bird's eye view of paradise.
Unique Departure
The parasailing company in Puerto Aventuras, Riviera Maya Parasail Adventures, offers a unique way to take off for the parasailing flight. Using the marina at the resort, guests can depart right off the pier, without having to go down to the beach. Because of the low-density of the resort, guests can enjoy the unforgettable perspective on the world that parasailing offers, taking in the natural beauty of the beach without crowds of people.
Flying
There is no experience necessary for those wanting to try parasailing in Puerto Aventuras. "If you can sit, you can fly," is the logo of the local parasailing company that offers a multilingual crew to assist guests on their adventure. Guests can fly solo or bring a friend along to enjoy the ride, which takes visitors along the shoreline, giving them a bird's eye view of the resort that includes a golf course, three bays and a marina. While in the air, guests can scan the clear water for dolphins or schools of tropical fish that will stand out in the shallow waters.
Precautions
While parasailing is enjoyed by thousands each year in Mexico and around the world, precaution should always be taken before flying. The United States Department of Consular Affairs advises travelers to Mexico to take extra caution in the water as many beaches do not have adequate lifeguards or medical facilities if an accident should happen. There has been parasailing accidents in Mexico where U.S. tourists were dragged through palm trees or were slammed into hotel walls. Water sports equipment in Mexico is not subjected to the same standards as in the United States, so always ask your guide for their safety records.
Weather
While Puerto Aventuras is generally a balmy, tropical climate, the area does have distinct seasons that should be considered when planning a vacation. From February to May, the weather is sunny, humidity is relatively low and rain is infrequent. The seas are calm and flat. From July to August, there are higher temperatures and rain is more frequent. From September to October, the rainy season brings cloudier skies and higher humidity. From November to January, although technically "winter," the weather is beautiful, with rain being less frequent, but conditions are often breezy, making for slightly choppy seas. An occasional "norte" will blow in and force tour operators to keep their boats in harbor for a day or two.
Resources
Photo Credits
Brand X Pictures/Brand X Pictures/Getty Images