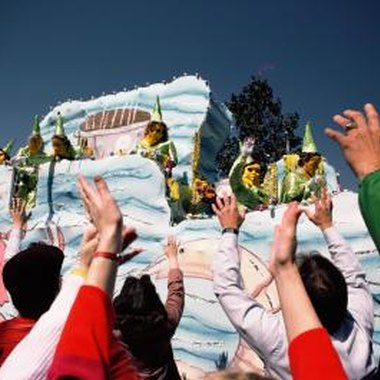 Located in Marion County Florida, Ocala is home to more than 50,000 people. The community gathers for several parades throughout the year. In addition to holiday parades, local agencies arrange annual parades such as Parade of Homes and Parade of Senior Services to provide information to residents of Ocala and Marion County.
Christmas Parade
Each year Ocala's Friends of the Christmas Parade puts on a Christmas parade and sells bleacher seats at the Ocala Shopping Center and the Sav-A-Lot Center. Tickets are available at the Ocala Mortgage Group building, 503 E. Silver Springs Blvd. which is the parade office. The Christmas Parade is usually held the first Saturday in December, though it was changed to the second Saturday in 2010. The parade begins at Northeast 25th Ave. and ends at Northeast Eighth Ave. The 2010 parade had 120 entrants and 4,200 participants. Each year a new theme -- such as "Christmas in Our City" -- is chosen.
St. Patrick's Day Parade
Each year, though not always on March 17, Ocala's Recreation and Parks Department presents its St. Patrick's Day Parade to the citizens of Ocala. Along with the parade, festivities include music and other entertainment and free events at the Ocala downtown square, featuring Irish food and green beer. Some of the highlights of parade day include the dunk-a-cop booth and the dunk-the-mayor booth. There are also crafts and children's activities.
Parade of Homes
A parade with a different twist in Ocala, the Parade of Homes, is put on each year by the Marion County Building Industry Association. This parade is not exclusive to Ocala but encompasses the entire Marion County area. Sponsored by several businesses, including the Ocala Star Banner, Ocala.com, Progress Energy, Teco Peoples Gas and Alarion Bank, this parade showcases the homes available in the county. It is held every spring,
Parade of Senior Services
Also a little out of the ordinary is the Parade of Senior Services in Ocala. The parade is put on by Marion County and is meant to introduce more than 60 government, nonprofit and public service agencies that provide services to seniors. The agencies provide literature and information to those attending. It is sponsored by local agencies such as Advanced Diabetic Solutions, Better at Home Healthcare, CaptionCall, CarePlus Health Plans, Inc. and Central Florida Eye Institute.
Photo Credits
Jupiterimages/Photos.com/Getty Images