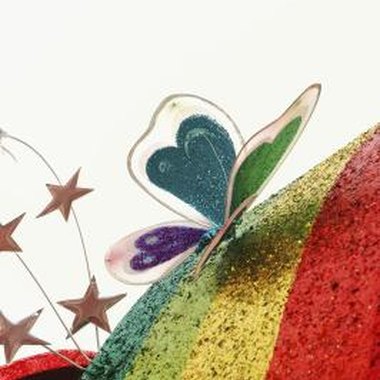 Located in eastern Lebanon County of south-central Pennsylvania, the borough of Myerstown was named for a local German immigrant, Isaac Meier, who was murdered in a local public house in the mid-18th century. A small community, consisting of almost 1 square mile in total area and just three traffic lights, Myerstown residents are within driving distance of a variety of holiday parades throughout Lebanon County as well as nearby Dauphin and Berks counties.
Saint Patrick's Day
Residents of Myerstown looking to celebrate Irish ancestry and culture need look no further than the state capitol of Harrisburg, located 40 miles to the west. Since 2003, the local Harrisburg Patrick's Day Parade Association has staged a parade each March which highlights the various components Irish heritage. With more than 90 groups participating each year and parade-goers numbering over 25,000, the downtown parade is the culmination of a week-long program of activities related to Irish culture and history.
Memorial Day
The borough of Myerstown boasts a proud history of involvement in the American tradition of fighting for democratic freedom. While Myerstown does not host its own Memorial Day parade, locals who wish to honor the sacrifices of soldiers both past and present have their choice of parades within Lebanon County. One such parade, advertised as the "Largest Memorial Day Parade in Pennsylvania," is located in nearby Annville. Lasting three hours, the parade route begins on the outskirts of Lebanon along State Route 422 and continues into Annville. Lebanon hosts its own smaller Memorial Day parade beginning at Ninth and Cumberland Streets. The town of Hershey is the location of Dauphin County's annual Memorial Parade which follows a circular route, beginning and ending on Cocoa Avenue. Berks County communities including Mohnton and Wyomissing also offer parades on the Monday holiday.
Fourth of July
Though many neighboring communities in Lebanon and Berks counties celebrate July 4th with a fireworks display, the borough of Wyomissing, located near Reading, has an annual Independence Day parade beginning at Wyomissing Boulevard. In the past the parade has featured local musical groups such as the Wyomissing Area High School Band, the Hawk Mountain Highlanders, the Wyomissing Band, and the Happy Dutchman German Band. Judges are on hand to give awards for best costumes and floats as well as a variety of other categories including the "Best Decorated House on Parade Route."
Holiday Parade
Each November, Myerstown hosts its sole parade of the year with the Myerstown Holiday Parade. Taking place after Thanksgiving, the parade kicks off in the afternoon with floats constructed by local residents and businesses taking to Carpenter Avenue, north of Legion Field. Prizes are awarded to non-commercial participants and Santa Claus makes an appearance, tossing candy to the children who line the route. The county seat of Lebanon also has a Holiday Parade along Cumberland Street from Lincoln Avenue to Ninth Street.
Photo Credits
Medioimages/Photodisc/Photodisc/Getty Images