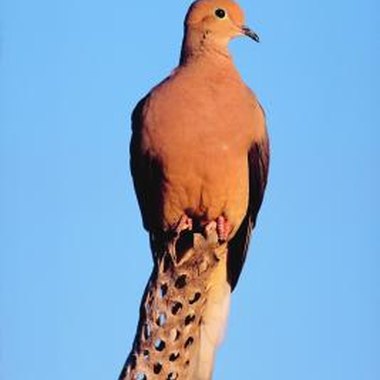 Palo Verde is a small town in southeastern California, approximately 30 minutes from the Cibola National Wildlife Refuge, which lies on both sides of the California-Arizona border. The wildlife refuge allows hunting of mourning and white-winged doves. Doves may be hunted with bows, falconry, 10-gauge shotguns and muzzle loading shotguns.
Dove Hunting Season
Dove hunting season opens in two sessions in California. The first session opens on September 1 and lasts until September 30. The second opens on the second Saturday of November and lasts for 45 days. Hunters may kill mourning doves, white-winged doves, spotted doves, Eurasian collared doves, and ringed turtle doves. However, only two species of dove are found for hunting in the Cibola National Wildlife Refuge.
Licensing Requirements
California hunters must have an Upland Game Bird validation stamp on their hunting license to hunt doves. Licenses may be purchased by residents or non-residents for the year or as a temporary one- or two-day pass. In addition, dove hunters must complete the federal government's Harvest Information Program (HIP) survey for migratory birds. Upon completion of the survey, a stamp will provided that must be affixed to the back of the hunting license. The HIP stamp is free.
Cibola National Wildlife Refuge
The Cibola National Wildlife Refuge (fws.gov) is located in the Colorado River floodplain of the Sonoran Desert. The floodplain was formerly a farmland for the Mohave and Quechan tribes. The refuge is now home to 228 species of migratory birds, including Canada snow geese, Gambrel's quail and grosbeaks. For hunters, mourning doves and white-winged doves can be found here. In addition to hunting activities, the wildlife refuge offers fishing and camping.
Hunting in Cibola
Dove hunters can start their hunts as early as 4:30 a.m. and hunt until 3 p.m. Mountain Time. Hunters may kill up to 10 doves total per day. Use of dogs to hunt is permitted, but neither canines nor humans are allowed to fetch birds killed in closed-access areas. Any decoys or blinds used must be removed daily.
Photo Credits
Jupiterimages/Photos.com/Getty Images