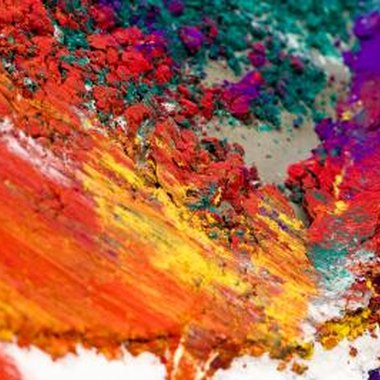 Love your Harley Davidson so much that you miss it while in the house? Decorate your game room or man cave with a Harley-Davidson theme. Painting the room can be as simple as using Harley's company colors -- orange and black -- or painting bikes in detail on the walls.
Basic Wall Painting
To keep the wall paint simple -- so it doesn't detract from your memorabilia collection -- opt for Harley's basic company colors: orange and black. All-black walls may be a little dreary, so limit the black to one wall, or paint just the bottoms of the walls black and use a piece of metal stripping as a chair rail where the black ends. To avoid being overwhelmed by orange or black, some walls could be painted silver or a suitable shade of gray to lighten things up.
Lovin' the Logos
For maximum impact, paint a large Harley-Davidson logo on one of the walls. You could opt for a monochrome logo (all silver, white or orange) on a dark wall, or go for the black "shield" logo with orange and white text on a light-colored wall. A large logo has the best effect if it is on a wall visible when first entering or approaching a room. You could also paint various Harley logos on the walls, since its logo has changed throughout the years. Paint accurate logos by projecting smaller versions with an overhead projector, then tracing them with pencil onto the walls.
Feature Your Favorite Bike
If you're partial to a particular model of Harley-Davidson motorcycle, feature it on one wall. You could project an image of it onto a wall as large as you like, even taking up the entire wall, then trace the details and paint it later. If you feel like spending the money, you could hire an airbrush artist to paint your favorite ride on the wall. Airbrushing, when done by a good airbrush artist, adds a certain flair that's hard to replicate when painting with brushes.
Special Touches, and Don't Forget the Floor
To give the game room an even more entertaining vibe, paint part of it like the great outdoors. Paint the floor like a road going off into the distance if your game room has a cement or paintable floor. The road could "end" at one of the walls, painted like the horizon of an outdoor scene with blue skies, or wherever you'd like to be riding. You could also paint racing flames on doors, walls or the floor. Be creative and have fun with it!
Photo Credits
Jupiterimages/liquidlibrary/Getty Images