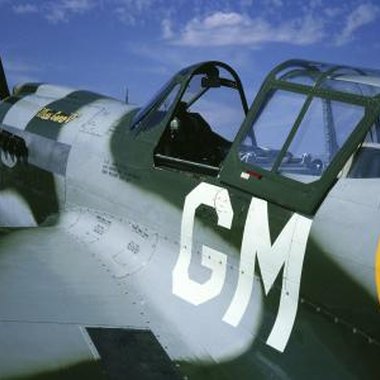 The most authentic way to paint a model airplane in a camouflage pattern is to use an airbrush. Using an airbrush, you can replicate the slight overspray of colors that takes place at the edges of colors sprayed onto real aircraft, with spray guns. An airbrush is a device with a pen-like tool you connect to a color cup or jar, containing the paint, and an air supply, such as an aerosol can of compressed air. An airbrush sprays paint out finely from its nozzle when you squeeze or press the trigger.
Items you will need
Masking tape

Pencil

Eraser

Airbrush

Gray primer

Model paints

Cleaning station
Step

1
Study camouflage patterns, in books or online, to decide on the one that's right for your particular model.
Step

2
Mask off the cockpit, decals, wheels, missiles and anywhere else where you don't want to apply the camouflage pattern.
Step

3
Spray the rest of the airplane with gray primer, suggests airbrushing and modeling expert Brett Green. This will provide a more even surface for your topcoat, according to Green.
Step

4
Draw the pattern onto your airplane in pencil, which allows you to easily modify it if you make a mistake or change your mind about the design.
Step

5
Follow model aircraft enthusiast Richard J. Tucker's advice and begin with the lightest color first. Fill the color cup with the lightest color paint. Aim the nozzle at the first area designated to be painted. Press the trigger and begin spraying until the whole area is covered. Slight overspray of the pencil line is not a problem.
Step

6
Allow the paint to dry while you clean your airbrush using a cleaning station and then change color to the next lightest paint. Follow the same procedure with the next lightest color, then all the other colors. Touch up large areas of overspray with a fine spray.
Step

7
Allow to dry then carefully remove the masking tape.
References
"Airbrushing and Finishing Scale Models"; Brett Green; 2008
Photo Credits
Jupiterimages/Photos.com/Getty Images