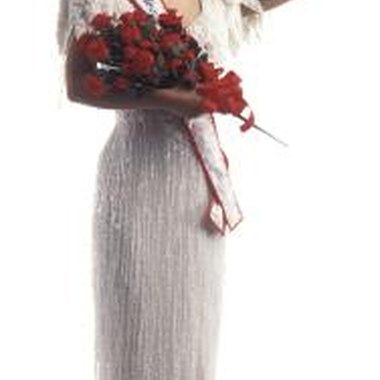 Modern beauty pageants got started in the 1920s and today millions of contestants vie for titles across the U.S. Contestants show off their beauty, talents and knowledge, and judges crown winners during these often elaborate events. Pageants in South Carolina accept contestants from of any age from birth to 55 or older.
National American Miss in South Carolina
The National American Miss offers scholarships and cash awards for girls across the country. South Carolina events are available for girls ages 4 years to 18 years, and in 2011 pageants were scheduled to take place in Charlotte, North Carolina in June and July. Girls are evaluated based on a personal introduction, a formal wear competition, an interview and by their participation in a community involvement project. Winners receive crowns and trophies.
Ocean Glitz
The South Carolina Ocean Glitz pageant is part of Southern Elite Pageants, which are known for contestants' flashy hair, make up and dresses. The pageants are held across Tennessee, North Carolina, South Carolina, Virginia, Kentucky and Georgia, with national championships in Florida. These pageants accept contestants from infancy to 16 years old, and all contestants receive crowns and sashes. The Ultimate Grand Supreme winner receives a cash prize. In 2011, the South Carolina Ocean Glitz pageant was scheduled to take place late July in Charleston.
The Glass Slipper Natural Beauty Pageant
The Glass Slipper Natural Beauty Pageant seeks natural contestants with age-appropriate make up. Girls can compete in the Glass Slipper Pageant from birth to 16 years old. There were several Glass Slipper Pageants scheduled in Spartanburg in 2011, including the Schoolhouse Rock Pageant in August and the Witches' Brew Pageant in October. Scheduled for December, a Babes in Toyland Pageant was planned in Rock Hill. Winners receive trophies, crowns and crystal slippers.
Royal U.S. Pageant
The Royal U.S. Pageant is held in South Carolina and accepts girls and women, ages 13 years and older. Contestants are scored on submitted photos and a fashion wear portion. Winners receive cash prizes. The goal of this pageant is to give anyone the chance to participate in a national pageant. There was no pageant scheduled for 2011, but the pageant was planned to be held in Columbia in 2012.
Photo Credits
Photodisc/Photodisc/Getty Images