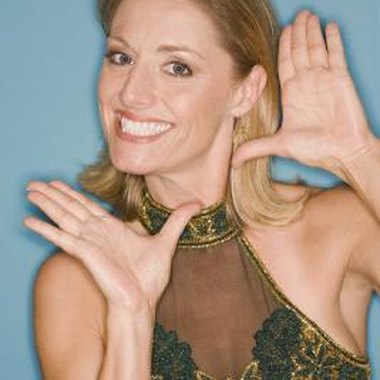 Each year in Illinois, many girls and women gather to compete in beauty and talent pageants. Illinois is home to many pageants that celebrate and reward a contestant's talents, looks, interviewing skills, style and community involvement. After paying entry fees, girls compete in pageants for crowns, sashes, cash prizes and scholarships.
Illinois Galaxy Pageant
The Illinois Galaxy Pageant, hosted by Galaxy International Pageant, is designed to award contestants on their looks, talents, style and appreciation of culture. Age groups range from 15 years old and upward. A teen from 15 to 18 is awarded Miss Teen Galaxy, while married women age 21 and up compete for the title of Mrs. Galaxy. Single women over the age of 30 vie for the title of Ms. Galaxy, while Miss Galaxy is geared for single women ages 19 to 29. Judging criteria is evenly split among photogenic ability, interview, swimsuit, fashion and evening gown categories. At the time of publication, entry fees for the Illinois Galaxy Pageant were $450.
Miss Heart of America - Illinois
Miss Heart of America is a national organization that hosts pageants in all 50 states. The state winners of these contests move on to compete in the group's end-of-year national pageant in Florida. On a state level, the Miss Heart of America Illinois pageant contestants must pay an entry fee of $195, at the time of publication. Winners receive a local prize package, sash pin, crown and state sash, along with a paid $395 dollar entry fee for the national pageant. Community involvement, casual and formal wear and on-stage interviews all factor into the judges' scoring of each participant.
National American Miss Illinois Pageants
National American Miss hosts a Miss Illinois pageant annually. The pageant features five age groups, with titles given to the winner of each. Girls ages 4 to 18 are invited to compete in this event. Judges score contestants in four categories: formal wear, personal introduction, interview and community involvement. Formal wear, personal introduction and interview each count as 30 percent of a contestant's score. The remaining 10 percent of score is calculated from community involvement. The pageant is held at the Pheasant Run Resort (pheasantrun.com) in St. Charles.
Sunburst Model Search Pageant
Girls up to 27 years of age and boys up to the age of 3 are invited to compete in the Sunburst Beauty Pageant, hosted annually in Illinois and multiple other states. Sunburst pageants advertise themselves as being open and receptive to new talent. No interview is necessary and all pageant participants will receive a crown and trophy. Young girls are invited, but the organization requests that little to no makeup be used on contestants under the age of 6. Age groups divide contestants, with prizes and awards given to the winners of each group. Entry fees ranged, depending on events entered, between $10 and $110, at the time of publication.
Photo Credits
Jupiterimages/Comstock/Getty Images