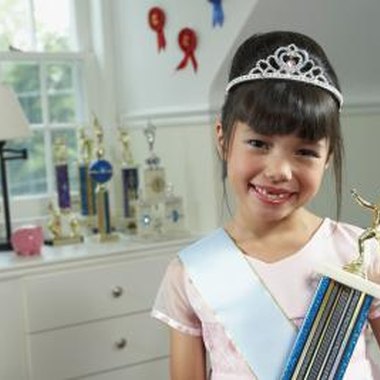 Pageant contestants of all ages work hard to showcase talent, beauty and brains. Gifts can be given to a pageant participant to honor of the dedication she puts forth, whether she has won a title or not. A pageant gift can be from the hosts of the pageant, and from the family or friends of a contestant.
Jewelry
As the saying goes, "Diamonds are a girl's best friend." You can assume from the bling coated on pageant ladies that most pageant contestants would agree with this statement. If you are a pageant host, you can give out crowns or tiaras to title winners from any number of categories. Additionally, if you are a loved one of a participant, you can surprise a contestant with a piece of jewelry that features a crown, such as a ring, a pendant, a necklace, earrings or a charm bracelet. The jewelry can feature diamonds, rhinestones or pearls.
Gift Bags
If you are responsible for hosting a beauty pageant, create bags for each contestant to take home as a parting gift, whether she is crowned or not. Use pageant funds to purchase gifts, or get the gifts from businesses and companies that wish to sponsor your event. Fill a tote bag with gift cards, coupons, makeup, hair products, a sash, a plaque or a pageant-related magazine. You can add items such as scholarship checks to the gift bags of ladies who receive a title. Just make sure the check is not overlooked when you hand out the gift bags.
Apparel and Trinkets
Give a pageant contestant -- young or old -- pageant-related apparel or trinkets to proudly display her love for walking the runway and showcasing her talents. Apparel such as T-shirts, sweatshirts, sweatpants, baseball hats and tank tops can feature sayings such as "Pageant queen," or "Pageant princess." Other items you can give a pageant contestant are cell phone covers, coffee mugs, water bottles, pins, bumper stickers, tote bags, clocks or license plates that display similar pageant-related phrases.
Spa Treatments
Give the beauty contestant in your life the gift of pampering and relaxation. Present her with a gift certificate for a local spa or beauty salon for a treatment such as a manicure, pedicure, facial, massage, haircut, hair color, up-do style, spray tan, hair extensions or eyelash extensions. This can be given before a pageant to help the contestant get fully prepared on the outside and feel mentally ready on the inside. You can also give this to a contestant after a pageant as a way to help her unwind. Additionally, pageant hosts can use spa treatment gift certificates as prizes for pageant participants.
Photo Credits
Darrin Klimek/Digital Vision/Getty Images