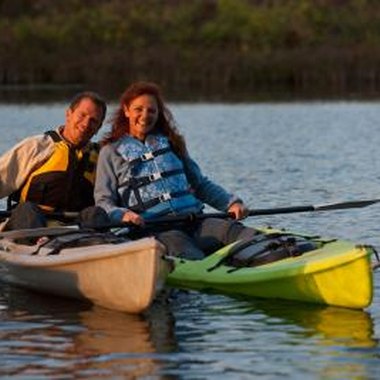 If any region in Canada embodies the phrase "a river runs through it," Ontario is it. With watersheds associated with the St. Lawrence River, the Ottawa River, Hudson Bay, Lake Erie, Lake Huron, Lake Superior and Lake Ontario, kayaking and canoeing opportunities abound for beginners as well as experienced paddlers. Several commercial tour guides, as well as parks, offer day trips and longer excursions. Whatever your experience level or interest in paddling adventures, you can find something to fit your needs on Ontario's rivers.
Madawaska Kanu Centre
The Madawaska River provides opportunities for beginners and experts alike for the much of the year. The Madawaska Kanu Center operates out of two locations: One is about five miles from Parliament Hill in downtown Ottawa and the other is in Algonquin Park, about 120 miles west of Ottawa. The Ottawa location is open in the spring before May 1, and after that date, the Alqonquin Park site is open. Weekend clinics are a convenient way to introduce families to paddling fun, or to simply offer a refresher to more experience paddlers. Instruction is available in both canoeing and kayaking, both in flatwater and whitewater. And the Algonquin Park location features a two-story Swiss chalet-style resort that is the hub for other activities such as hiking, games and mountain biking. Special programs include women's retreats, senior retreats, high-performance outings and families. And if stand-up paddling is your thing, MKC has training and equipment for you, too.
White Squall
To paddle around the many islands of Georgian Bay (only 90 minutes north of Toronto), White Squall Paddling Centre offers a variety of trips that combine kayaks or canoes and camping. For example, the Umbrella and Cathcart Islands provide three-day outings, while Bustard Island Holidays provide seven-day explorations of a cluster of islands that offer great fresh water swimming, hiking and photographic outings. White Squall also has adventures that combine island kayaking during the day and late night stargazing in Georgian Bay's country settings.
Thorncrest Outfitters
Thorncrest Outfitters has kayak and canoe outings on the Saugeen and Rankin rivers, as well as the open waters of Georgian Bay and Lake Huron. May of the guided tours take paddlers around islands such as Lyal Island and Flower Pot Island. They also sell clothing and gear needed for a day-long or weekend excursion. Thorncrest offers summer and winter courses and guided trips, as well as classes for adults and children. The winter courses include indoor rolling lessons.
Dog Paddling Adventures
No, it's not a basic swim course in Lake Ontario. Dog Paddling Adventures is, as the name suggests, a way to include your dog or dogs in your next canoeing journey. The company caters to individuals and families who have a four-footed and furry family member who needs to ride up front. If you have a dog and you want to have a canoeing, hiking and exploring adventure led by others who love dogs too, Dog Paddling Adventures will surround you with folks who share a love of the outdoors and a love of man's best friend. One-day excursions around Toronto harbor and McRae Lake are a good introduction to their offerings, while three-day trips through Algonquin Park promise a lot of excitement.
Photo Credits
Comstock Images/Comstock/Getty Images