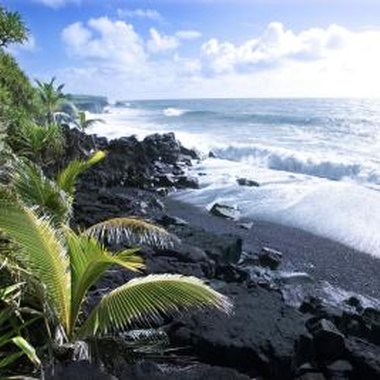 The Pacific Ocean and the lands that dot its vast depths have fascinated locals and outsiders throughout the ages. Filled with natural beauty, tales of adventure, exotic scenery and larger-than-life characters, the Pacific offers a variety of ideas to center a Pacific-themed party around -- all with an oceanic twist that will transport your guests to a faraway land for the evening.
Television and Movies
Center your Pacific-themed party on well-known and loved television shows and movies set in the Pacific. Throw a "Gilligan's Island" party and ask your guests to dress as their favorite character from the show. You'll play host to plenty of sexy Gingers, down-home Mary Anns, hefty Skippers and ritzy couples dressed as the Howells. If Gilligan's Island isn't your style, choose an Elvis movie for your theme. "Blue Hawaii," "Girls, Girls, Girls" and "Paradise, Hawaiian Style" are all options. Arrange a big screen for your guests so your guests can watch the movie in the background as they hula the night away.
Rogues of the Pacific
The Pacific has been home to pirates and privateers over the years. Invite your guests to dress as any of the notorious pirates and scallywags that sailed the high seas. Guests can choose to attire themselves as pirates. Decorate with treasure chests overflowing with gold doubloons, ropes of jewels and parrot themed ornaments.
Natural Wonders
The Pacific region is known for its abundance of natural wonders. Surrounded by the Pacific Ring of Fire, this area includes the majority of the world's active and inactive volcanoes. Create a spewing volcano of molten chocolate lava, and invite your attendees to coat fresh fruit, marshmallows and other delicacies in it to snack on. Create several small fires in pits around your venue to represent the fiery energy that lies just below the surface of every volcano. Alternatively, create a natural waterfall for your. Go as large or small as your space allows, and rig several hoses to pour into a man-made trough hidden in trees to mimic a real waterfall.
Pacific Cultures
Recreate the Fiji Islands for your party by hiring a firewalker to wow your guests and serving the intoxicating drink of the islands, Yaqona. Choose an Australian theme and provide authentic instruments to allow invitees to perform impromptu musical numbers.
References
"Pirates of the Pacific: 1575 to 1742"; Peter Gerhard; 1960
Photo Credits
Thinkstock/Comstock/Getty Images