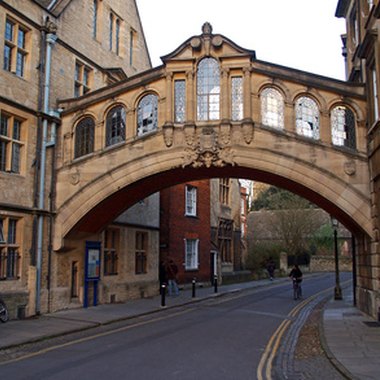 Oxford, home of the oldest university in the English-speaking world, is a sophisticated blend of town and gown. Visitors to this small city on the edge of the Cotswolds run the gamut: tourists,students and their parents, world-renowned professors, artists and writers. A variety of businesses, fueled by the city's scholarly resources, also draws business people to Oxford on a regular basis. Within this historic city's ring road, Oxford hotels address the variety of visitor tastes.
Traditionalists
Visitors who like traditional grand hotels, with their 19th century, gentlemen's club ambiance and leather chesterfield sofas, will find a shortage in Oxford, but elderly dons and aristocratic grandparents will no doubt feel at home in the Macdonald Randolph Hotel. The city-center hotel, across the street from the Ashmolean Museum, was built in 1864 and its high-ceiling, paneled lounges retain many original features. A program of restoration and refurbishment has brought some of the rooms up to date, but this is an old-fashioned establishment rather than the luxury accommodation its five-star rating suggests.
Eccentrics
Connoisseurs of English eccentricity will find a fair share of it in Oxford, from the occasional blue stocking sweeping down the street in her vintage skirt to the tiny pubs hidden down narrow alleys. The Malmaison Hotels group takes on eccentric, city center buildings and turns them into luxury hotels. In Oxford, it's the 1,000-year-old Oxford Castle that's had the Malmaison treatment. The Malmaison Oxford occupies the part of the castle that was a Victorian prison. "A-wing," which served as a set for "Inspector Morse," still has its galleried landings and open, iron-work stairs, but every third cell has been turned into a stylish, luxury room. Suites in the Governor's House have mezzanines and bathrooms with black slate floors. The group's own-brand toiletries come in generous-sized, take-me-home bottles.
Jazz and Art Lovers
The Old Bank, a chic, city-center boutique in an impressive Georgian building, has 42 bedrooms with marble baths overlooking Oxford High Street. The hotel showcases the owner's art collection, gathered over 35 years and including drawings by Stanley Spencer and works by Sandra Blow, Michael Ayrton, Craigie Aitchison, Roger Hilton and Paddy Summerfield. Sunday night jazz in the hotel's Quod Brasserie features musicians from all over the United Kingdom.
The Practical Traveler
Oxford is a small but busy working city, with business activities beyond those of a university town. For business visitors to the Oxford Business Park, the Premier Inn is about 3 miles from town and offers simple, clean and practical accommodations. The chain is known for guestrooms with comfortable beds and modern en suite bathrooms at budget prices. The Oxford Premier Inn is beside the business park on the ring road with easy access to major motorways as well as Oxford center. The hotel has ample free parking and an on-site, budget restaurant.
Resources
Macdonald Randolph Hotel; Beaumont Street, Oxford OX1 2LN GB; 011-44-844-879-9132
The Premier Inn Oxford; Garsington Road; Oxford OX4 2JT; 011-44-871-527-8866
Photo Credits
christchurch college oxford image by Gary from Fotolia.com