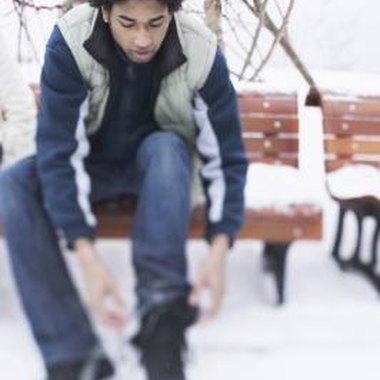 Strap on your skates and hit the ice to partake in the winter-time tradition of ice skating. While the state of Rhode Island is home to several small lakes and ponds on which the locals enjoy skating, the only truly safe place to skate outdoors is on regulated ponds and ice rinks. Luckily, there are a variety of safe spots to skate in Rhode Island that let you enjoy the scenes of a winter wonderland while being part of a favorite winter pastime.
Rinks
Throughout Rhode Island, skaters can find a variety of outdoor rinks that allow them to appreciate the fresh air and enjoy a fun winter activity while avoiding the dangers of skating on frozen ponds or lakes. The Sovereign Bank Family Skating Center at the Newport Yachting Center in Newport is a family friendly environment in which people of all ages can skate outside (skatenewport.com). The Bank of America City Center in downtown Providence offers an outdoor rink that is twice as big as the one in Rockefeller Plaza (kennedyplaza.org/skating-information).
State Parks
A handful of Rhode Island State Parks have ponds and outdoor rinks for ice skating. As part of the State Park system, the condition and thickness of the ice at these outdoor spots is carefully monitored to make sure that the ice is safe for skating. Goddard Memorial State Park in East Greenwich, Lincoln Woods State Park in Lincoln and Meshanticut State Park in Cranston all boast designated skating areas (riparks.com).
Ice Skating Outdoors
Skating outdoors in Rhode Island exposes skaters to the best and worst of the season: skaters may enjoy the crisp air nibbling at their cheeks and the beauty of snow blanketing the New England landscape or may experience frigid temperatures and inclement weather. You should dress warmly and wear layers of clothes, to easily remove a layer or put one back on for increased warmth. Wearing comfortable clothing that allows easy movement is also a good idea. Remember mittens and gloves to keep your fingers warm. A helmet may be a safe precaution for beginning skaters.
Skating Safety
Before stepping onto a designated skating area at one of the State Park's ponds or lakes, check the Division of Parks and Recreation's website or call for updates on the ice's condition. Even if a State Park's skating area is open, remember that the only truly safe ice is at a rink. Never go ice skating alone or at night time when it is harder to be seen. Observe any signs indicating unsafe areas and only skate on ice that is at least six inches thick.
Photo Credits
Jupiterimages/Brand X Pictures/Getty Images