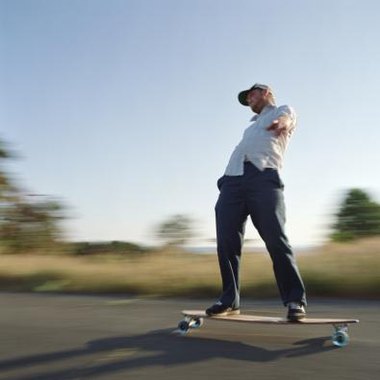 Knowing that riders want to go fast, manufacturers often make their longboard bearings from light ceramic materials for increased speed capabilities. The bearings get rated by the Annular Bearing Engineers Committee based on speed, with the fastest receiving a rating of 9 or 11. They come equipped with a thin plastic shield designed to block out moisture and dirt. Over time, though, fine particles of dust may slip through the shields. Remove the bearings from your longboard wheels for routine cleaning.
Step

1
Flip your longboard upside down and place it onto a level worktable. Align the head of your skate tool over the axle nut located in the center of the longboard wheel. Rotate the skate tool counterclockwise to loosen the axle nut.
Step

2
Repeat the process with the remaining wheels. Slide the wheels off the cylindrical axles of the longboard trucks. Insert the knob of the skate tool into the circular opening of the bearing.
Step

3
Hold the wheel in place while gripping the skate tool with your other hand. Push the skate tool from side to side to loosen the bearing. Remove the bearing from the center of the longboard wheel.
Step

4
Turn the wheel over to remove the second bearing. Repeat the bearing removal process with each of your longboard wheels. Wipe down the bearings with a cotton cloth to remove any built-up dirt or grease.
Resources
Photo Credits
Ryan McVay/Digital Vision/Getty Images