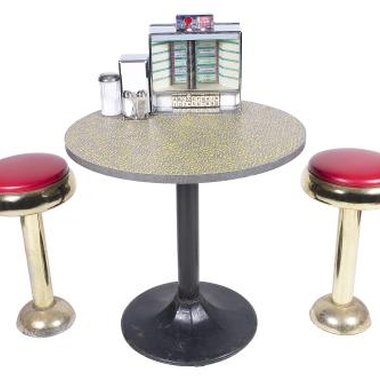 Every Memorial Day weekend, a 1950s-era town is recreated on private farmland in Rogersville, Tennessee, and opened to the public for a Memory Lane festival. Each year, the event draws more and more people who want to remember the days of moon pies and Orange Nehi pops. Additional buildings, vehicles and other artifacts are added to the 200-acre town replica throughout the year.
Otis Eldridge
Otis Eldridge is a fan of everything 1950s and shares his enthusiasm for the era annually on Memorial Day. Each year he and his wife, Kathy, open their backyard to thousands of people eager to see the replica town. Eldridge especially loves cars from that era and has dozens in his private collection. An antique car show is always included in the annual '50s festival.
History
Otis and Kathy Eldridge, whose collection of memorabilia started with the acquisition of an antique coffee grinder, began building the replica of a 1950s-era town in their backyard in 1998. The grinder was from a country store in Virginia that was going out of business. When the Eldridges went to the store to pick up their grinder, they found other antiques they also wanted -- about two truckloads worth. Searching for a way to display the memorabilia led to the decision to build the replica town, which includes a country store where the artifacts are displayed.
Attractions
Memory Lane is a full-scale replica with authentic buildings: a country store, a bowling alley, a diner, a drive-in movie theater and dozens of other structural artifacts from the 1950s. The Eldridges have been collecting memorabilia for decades, working throughout the year to bring authentic buildings such as the Studebaker Diner -- originally in Marion, Virginia -- to their home in Tennessee. The replica town has streets and gutters, and a bridge over a swimming hole adds to the sense of authenticity.
Location
Memory Lane is north of Rogersville, Tennessee, on the Eldridge's 200-acre property at 459 Caney Creek Road. To get to the town head north on Highway 11W and then turn west on Highway 70 for about one-half mile to Caney Creek Road. The entrance to Eldridge Auto Sales is on the right side of Caney Creek Road, about 1.5 miles from Hwy 70. The entrance to Memory Lane is behind the family's auto dealership. It's open on Saturdays on Memorial Day weekends from mid-morning to late at night.
Photo Credits
Hemera Technologies/PhotoObjects.net/Getty Images