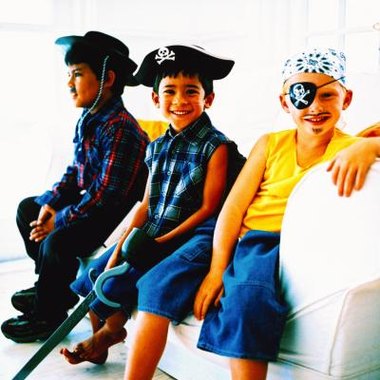 Oriental Trading offers reasonable cost alternatives to party items at regular or party stores. The company's approach is to offer products packaged in higher quantities than are usually offered in regular retail stores, along with more unusual items. Oriental Trading provides themed items for parties, such as inflatable palm trees for a tropical party. It gears games and activities toward whatever theme the buyer chooses.
Birthday Theme
Oriental Trading is big on birthdays. It is the one-shop place for birthday parties for boys, girls, first birthday parties and that very special sweet sixteen party. Party theme packages include all or many of the following: invitations for eight guests, themed plates, cups and napkins, color-coordinated cutlery and table covers, streamers, balloons and confetti. Birthday party themes include neon monkeys, Handy Manny, Barbie, Princess and the Frog, dolphins, and "I Scream for Ice Cream," as well as robots, monsters and monster trucks. For a sweet sixteen theme, you'll find candles, bags, boxes, message candy bars, key rings, stickers, cups and more.
First Birthday Theme
Celebrate a first birthday with a big purple butterfly holding the number 1 on plates, cups and napkins. Purple and pink are the predominant colors of this party theme. Yellow and red dominate the first birthday farm theme with a happy horse, pig and cow on plates and other wear. Pooh Bear also makes an appearance for an Oriental Trading first birthday themed party.
Western Theme
If you've chosen a western theme, you've come to the right place. Start with a life-sized cardboard cowboy cutout to set the theme for the party. Offer regular cowboy hats and bandannas to guests or supply them with "design your own" cowboy hats. Include wagon wheel decorations and turn the guests into either outlaws, with mustaches, or sheriffs, with badges. Hold a sing-along around an artificial camp fire. Use sticker scenes or frame crafts, candy and other western-themed treats and activities.
Luau and Tropical Theme
Make the party tropical with inflatable tiki poles and palm trees. See how low you can go under the limbo pole. Hang pineapple-shaped tropical lights and tribal face lanterns. Serve punch from a coconut punch bowl and snacks from a seashell. Add in lei garlands and folding fans. Games include a luau disk drop game, inflatable tropical ring toss and tiki beanbag toss, along with beach balls, sticker activities and flying discs.
Baby Shower Theme
Oriental Trading has everything you need to throw a baby shower. Plates, cups, napkins, balloons, table covers, invitations and thank you cards come in patterned pink or blue. The company offers baby shower cupcake boxes to protect cakes taken home as well as shower bags for favors or gifts. You don't have to search for baby shower games. Oriental Trading provides three different pre-printed shower games. To round out the baby shower theme, Oriental Trading provides cutouts, centerpieces and garlands for decorations along with a banner you can have personalized.
Variety Themes
Oriental Trading offers a wealth of party themes including circus, rocker, princess, Shrek and other popular characters, wedding, anniversary, pirate and sports. It offers both complete party packages, so you don't have to worry about all the details, and individual items, so you can create your own one-of-a-kind party theme.
References
Photo Credits
Stockbyte/Stockbyte/Getty Images