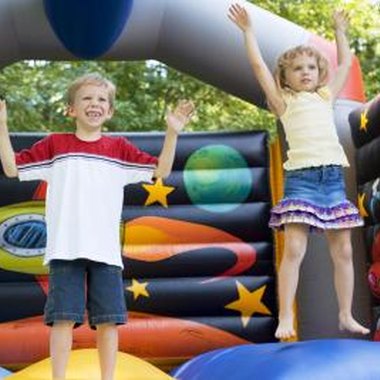 You may have fond memories of jumper parties from your childhood. A longtime staple of children's parties, the jumper -- otherwise known as a bounce house or bouncy castle -- provides hours of inflatable fun and entertainment, with the added bonus of providing a venue to bounce away that sugar high. Planning any party on short notice is challenging, but a jumper party requires some additional logistics. With the right preparation and organization, you can have a fun and flawless party that nobody will know was planned in a week.
Step

1
Select your party location. Make sure there is ample space to actually set up a jumper. If you plan to have the party at a park, check with the city about any ordinances that would prohibit or regulate jumpers, and ask about any extra fees this may incur.
Step

2
Contact a party rental service and reserve the jumper you want. Jumpers typically come in a variety of sizes, shapes and themes and can be rented in hourly or daily increments. Check to make sure the rental agency will deliver the jumper to the location, inflate it and take care of deflation and removal at the end of the party.
Step

3
Send invitations to the people you want to invite. With only a week's notice, it's best not to mail the invites. Instead, send an emailed invitation, use an online invite service, send text messages, use social media to announce the party or call everybody individually. Follow up within two to three days to confirm the RSVPs, so you have an idea of numbers for food and drinks.
Step

4
Order enough food and drinks for all your guests, or make some quick and easy snacks. If you will be picking up hot food, such as pizza, arrange who will be collecting it and tell them the time. If you plan to barbecue, check that the party location has a suitable grill. If not, bring your own, and remember to bring the charcoal and lighter fluid as necessary. Make the cake -- or order one if you still have enough time for the bakery to fulfill the order -- and buy any candles you need. If you are having a themed party, purchase any matching paper plates, cups, napkins and accessories.
Step

5
Arrive early on the day of the party so you can set up the jumper before the guests arrive. Tether the jumper securely to the ground according to product or rental company directions -- not doing so may make the jumper prone to wind gusts and risk the safety of the children inside. Designate an area for people to place their shoes while jumping. Keep wipes handy available so that you can clean the jumper if anything is spilled in it during the party -- this will help to avoid fees upon collection.
Tips & Warnings
Check your local paper for discount coupons for the jumper rental service, or shop around for the best deal.

Read online reviews, get recommendations from a friend and check with the better business bureau before deciding on a company to rent from.

If you live in a traditionally rainy place, or an area with changeable weather, consider holding the party at an indoor play place or bounce house. These locations typically have all inclusive party packages. Otherwise, you could end up paying for a jumper that you can't use because of the rain.
Photo Credits
Creatas/Creatas/Getty Images