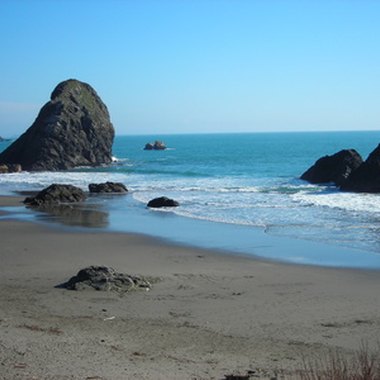 Oregon's Pacific coast is typically rugged, windswept and immensely scenic. From the stormy mouth of the Columbia River at Astoria to the "Banana Belt" sunshine toward the California border, the wild scenery and cultural attractions roll on uninterrupted. Staying at a hotel near the crashing, roiling ocean is one way to experience this iconic geography.
Small Towns
Some of the Oregon Coast's smaller towns feature hotels. Gold Beach, for example, set on the far southern coast not far from the California border has the Gold Beach Inn. Many of the rooms here have their own balconies, and views from some encompass the rugged coastline, offshore reefs and broad ocean panoramas. You can also find access to a nine-mile walking beach. On the central coast, the Yachats Inn in its eponymous town has one-bedroom suites with fireplaces and first-floor units with their own decks.
Cities
No large cities line on the Oregon Coast, but several small ones serve as regional centers. Astoria and Seaside on the North Coast; Lincoln City and Newport on the Central Coast; and Florence and the North Bend-Coos Bay matrix on the South Coast are some of the major examples. Hotels are usually easy to come by. For example, the grand Hotel Elliott is located in Astoria's historic downtown and adjacent to the mouth of the Columbia River. Coos Bay on the south coast has a large Red Lion Hotel sporting more than 140 rooms and accommodations for conferences and other large gatherings.
Access and Attractions
The major access to the hotels of the Oregon Coast is Highway 101, the famous West Coast north-south travel artery. Two-lane highways reach 101 and the coast from the Willamette Valley, Oregon's most populous region. From your station at your chosen motel, outdoor activities are varied: from tidepooling on the immediate coast to mushroom-hunting in the adjoining Coast Range. One of the year's showstoppers comes with the annual migration of the gray whale along Oregon between California breeding grounds and Alaska feeding areas. One of the best spots to see these high-endurance behemoths is Depoe Bay, which has plenty of affordable lodging options, like the Four Winds Motel and the Trollers Lodge Motel.
Considerations
Bring a sweater or jacket even in summer: The Oregon Coast is rarely hot. Winter frequently brings tempestuous winds and rains to the coast, though this can be a great time to hole up in a motel: "Storm-watching" is a popular wet-season pastime. Make reservations well in advance for summer weekends, especially at accommodations in coastal towns directly connected to the Willamette Valley, like the Inn at Seaside. It may be busy at coastal hotels during the height of the gray-whale migration, a big tourist draw.