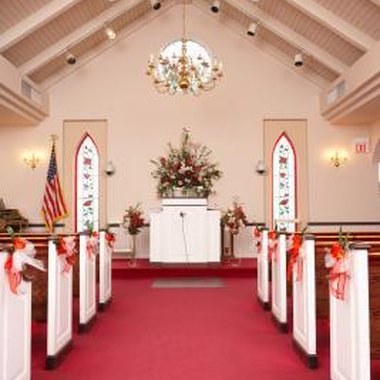 Most couples arrange their bridal parties in the same order, although certain religions may have certain alterations. For instance, in Jewish ceremonies the bride and groom's grandparents and the groom's parents walk down the aisle during the ceremony rather than beforehand. Your officiant can help you work out the specifics, and you can also make minor adjustments to the traditional order based on your preferences. It is your wedding day, after all.
The Men
Traditionally the officiant is the first one to arrive at the altar, walking in from the side to take his place. In Christian ceremonies, the groom and his best man walk in behind the officiant and all three stand at the altar, facing the crowd. The groom may have the rest of his groomsmen walk in with him, or ask them to walk down the aisle. If he chooses the latter option, the groomsmen are usually the first ones to walk down the aisle.
The Women
The bridesmaids are the next down the aisle. The only standard rule is that the maid of honor is the last one of the group to enter. Beyond that, choosing the exact order of the bridesmaids can be a touchy subject. Some brides arrange the bridesmaids based on who they're closest to, with the least close woman entering first. Other brides opt to arrange their bridesmaids in order of height or alphabetically in order to avoid any hurt feelings. Some couples may also choose for the bridesmaids and groomsmen to walk down the aisle together in pairs.
The Children
Not every couple chooses to include children in their wedding, but the sight of little children in suits and dresses is sure to tug at the heartstrings of the guests. If you do opt to include flower girls or a ring bearer, they follow the bridesmaids down the aisle. The flower girls enter after the ring bearer so the flower petals they sprinkle won't be crushed before the bride arrives. These children generally sit with their parents once they reach the end of the aisle.
The Bride
Since the bride is by most accounts the star of the show, she's always the last one to enter. In most ceremonies, guests all stand and face her as she begins to walk down the aisle. Traditionally the bride is accompanied by her father, and she walks on his left side while she holds his hand or his arm. Modern brides may also be accompanied by their mothers on their other side, ask a different male relative to escort them, or skip the escort altogether and walk down the aisle alone.
Photo Credits
Jupiterimages/Photos.com/Getty Images