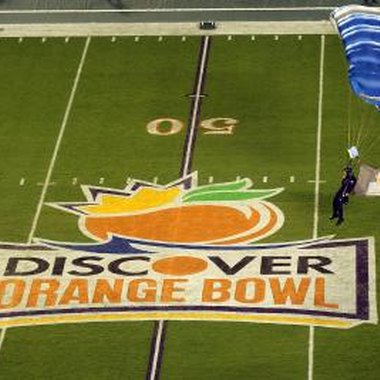 Right around the end of the year and the beginning of the next, college football teams from all over the country play their versions of the NFL's Super Bowl. The Orange Bowl, hosted in Miami, Florida, is played each year in early January at the home of the Miami Dolphins football team. In previous years, this event also had the Orange Bowl Parade associated with it.
Time Frame
The Orange Bowl is one of the oldest bowl games in college football history, dating back to the mid-1930s. The parade also dates back to the earliest years of the bowl game itself. Each year, the parade became a part of the tradition of the game. Other events also are a part of the annual festivities. However, in its later years, funding for the parade was difficult to come by and crowd levels declined. Around 2002, the parade came to an end due to funding issues after more than 60 years of parades.
Parade Features
The Orange Bowl Parade featured many of the same attractions that other parades boast, winding through 2.2 miles of downtown Miami. Features included bands, floats and important political figures. Many of the bands that marched in the parade were high school and college bands, giving students a once-in-a-lifetime opportunity to participate in a large parade event. Up to 100 different floats appeared in the parade each year, along with numerous live performers, clowns and dancers.
The Decision
The decision to end the Orange Bowl Parade was not taken lightly. Secret meetings were held by the Orange Bowl Committee to determine if there was any way to save the parade. Corporate sponsors were asked to increase contributions. Coupled with the decline in attendance, as well as the loss of its contract with the NBC network, the Orange Bowl Committee decided that the parade could not be saved. The most important thing was to keep the bowl game afloat, rather than trying to maintain the parade.
Junior Orange Bowl Parade
Even though the original Orange Bowl Parade ended, the Junior Orange Bowl Parade still runs. This parade is designed for children and is in its 63rd year as of the 2011-12 season. Children of all ages participate in this parade that takes place in downtown Coral Gables. Like the Orange Bowl Parade, the junior parade also features colorful floats and marching bands. Community groups and other organizations also participate in the annual tradition. Each year, a child-friendly character acts as grand marshal of the parade.
Photo Credits
Mike Ehrmann/Getty Images Sport/Getty Images