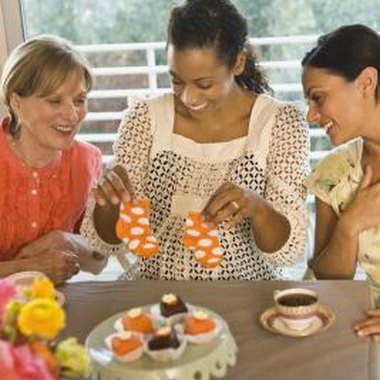 There are a wealth of websites that provide baby shower planners and moms-to-be with free baby shower decorating and design tips. There are many passionate designers and crafters who provide interesting and useful tips on how to make and buy baby shower favors that are both attractive and unique. When turning to the Internet for baby shower favor ideas, be sure to visit websites that have professional and reliable ideas and information: Martha Stewart, 101 Baby shower Ideas, Country Living and Baby Center.
MarthaStewart.com
Martha Stewart is known for her visually stunning decorating ideas. The MarthaStewart.com website provides 19 elegant baby shower favor designs. Visitors can browse through a photo gallery of baby shower favor ideas. Many of the ideas include simple instructions that allow you to easily recreate the baby shower favor. There are ideas for just about every skill level and interest and all of the ideas are exquisite. One stylish idea is to wrap a small block of white chocolate in parchment paper, tie it with waxed twine, and top it with a fresh vanilla bean.
101 Baby Shower Ideas
101 Baby Shower Ideas provides information about all things related to baby showers and helps those who are preparing to throw baby shower parties. The website provides articles that are chock-full of baby shower ideas in a variety of categories and themes. For instance, there are ideas for bath, body and soap favors, bottle favors and magnet favors. There is even a category of articles dedicated to edible baby shower favors.
Country Living
Country Living is devoted to home decorating, recipes, antiques and collectibles. It offers baby shower decorating ideas as well as suggestions for creating coordinating baby shower favors. The website showcases baby shower favor ideas through a slide show. The photos provide inspiration for creating simple party favors. For example, there is a favor idea for boxes filled with egg-shaped candy as a tribute to the "nesting" new mom.
Baby Center
Baby Center is a website dedicated to child development and parenting and also offers suggestions for those throwing a baby shower. The website provides a page full of baby shower favor ideas that have been recommended by seasoned baby-shower planners and guests. The ideas are known to be pleasing to party-goers and many of the baby shower favor ideas are easy to assemble, unique and memorable.
Photo Credits
Jupiterimages/Brand X Pictures/Getty Images