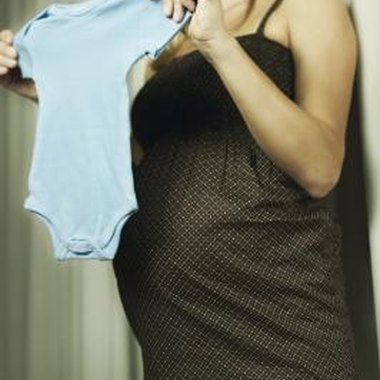 Onesie decorating is a popular activity at baby showers, and onesies are the ultimate fashion staple for little babies. There are a variety of ways you can incorporate a decorated onesie on your baby shower invitations to make a cute statement. Making a onesie baby shower invitation will show guests that your baby shower theme is really all about the baby.
Stamped Onesie Invitations
You can make a stamped onesie invitation by using card stock in any size that you like. You will need patterned paper, rubber onesie stamps and an ink pad. Use the rubber onesie stamps to stamp onesies on the patterned paper, then cut the little onesies out of the patterned paper and arrange them on the card stock any way you like. You can use the back of the card stock for the details of the baby shower.
Large Onesie on the Invitation
If you know how to draw a onesie or can find a template, you can draw a large onesie that will take up the bulk of your card on a white piece of card stock. Use a contrasting color like hot pink or aqua blue for the rectangular card stock. After you glue the white onesie card stock on the rectangular card stock you can embellish the white onesie with little bows or whatever suits the baby shower theme. In the middle of the onesie you could include all of the details of the baby shower. An alternative would be to create a small flap at the top of the onesie cutout by folding over about 1/4 inch to 1/2 an inch, then gluing only the flap to the colored card stock. You can then lift the onesie as if opening a card and include the party details underneath on the colored card stock.
Onesie Invitation
If you do not like the rectangular invitation look, you can create an invitation in the shape of a onesie. To do this you'll need to find large pieces of card stock in colors that match the shower theme. Use a onesie template or make your own if you know how to draw a onesie. Cut out onesies from card stock and write all of the baby shower information in the middle of the onesie. You can decorate the onesie with any embellishments that you like. For example, if you are doing a jungle theme, place stickers of jungle animals on the onesie.
Computer-designed Onesie Invitation
If you are not very crafty and do not want to cut and paste onesie invitations you can design your own invitation with a computer program. You can use clip art onesies to place on your invitation in any pattern that you choose. For instance, you could arrange several onesies along one side of the invitation either vertically or horizontally, then place the information for the baby shower on the side of the card opposite the arrangement of onesies.
Photo Credits
Jupiterimages/Brand X Pictures/Getty Images