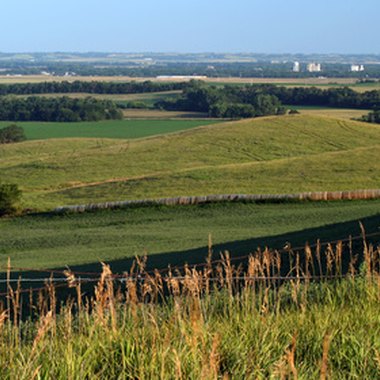 Nebraska might evoke images of hearty farmlands, but Omaha, its largest city, is a bustling commercial hub with five Fortune 500 companies, several universities, a thriving arts scene and a rich historic district. Its attractions include the world's largest indoor rain forest, colorful theme parks and memorial sites for Gerald Ford and Malcolm X. The city, which boasts 10,000 hotel rooms, is well-equipped to handle tourists and business travelers. Many of the hotels feature indoor, heated pools.
Courtyard by Marriott Aksarben Village
Smoke-free Courtyard by Marriott is located in the heart of the city in a mixed-use urban development known as Aksarben Village. Neighbors include the University of Omaha and First Data Corp., as well as restaurants like The Drover and shopping centers like Regency Court. Guests can swim year-round since the hotel has a heated indoor pool. There's also a whirlpool, bistro, bar, business center and fitness center. Nearby attractions include the Omaha Community Playhouse, the nation's largest community theater; Doorly Zoo; golf courses; and Heartland of America, where visitors can enjoy gondola rides across a 15-acre lake.
Crowne Plaza Omaha Old Mill
Crowne Plaza Omaha Old Mill, about 5 miles from the city center, has an oversized indoor pool open from 8 a.m. to 11 p.m. daily. The hotel, renovated in 2010, runs complimentary airport shuttles and has a business center, gift shops, cocktail lounge and restaurant that features the famed Omaha steaks. Guests at the Crowne have easy access to Boys Town's museum and campus, Doorly Zoo's indoor rain forest and Lewis and Clark exhibits, and the Qwest Center's concerts and events.
Hilton Omaha
The AAA Four-Diamond Hilton Omaha, five blocks from the Old Market historic district, has 450 rooms, a tavern and restaurant, full-service business and fitness centers, a spa and an indoor heated pool. Taking in a concert at Qwest Center is especially easy, since a skywalk connects the hotel to the performance coliseum. Guests who want to get outside and walk or bike can take the Bob Kerrey Pedestrian Bridge across the Missouri River to Council Bluffs, Iowa. At 3,000 feet long, it is the longest pedestrian bridge to connect two states. On the Nebraska side, visitors have access to the National Park Visitors Center and River Critters Environmental Play Area.
Holiday Inn Omaha
For families with children who don't see the appeal of an indoor pool during the summer, the Holiday Inn Omaha has an outdoor pool. Located in the northeast part of the city and 14 miles from Omaha's airport at Eppley Airfield, the hotel also boasts an indoor whirlpool, a 24-hour fitness center, full-service restaurant (kids eat free), and lounge and library for coffee and relaxing. This Holiday Inn offers easy access to Boys Town, the zoo, the Qwest Center and the Old Market, a former commercial district turned into a center for restaurants, shopping and museums.
Photo Credits
nebraska farmland image by Carbonbrain from Fotolia.com