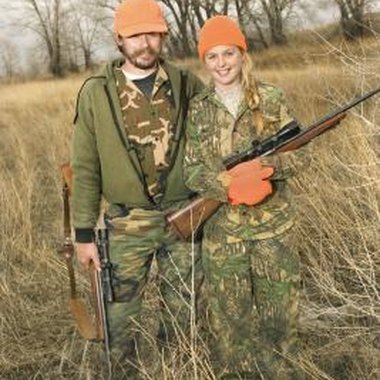 Oklahoma opens its doors to big- and small-game hunters of all ages year round; even minors get a chance to hone their hunting skills as long as they follow the laws and restrictions set out by the Oklahoma Department of Wildlife Conservation. In general, adults must accompany all minors to assist them on their hunting trips. The state, though, has different laws for minors who reside in the state and those who are nonresidents.
General Guideline for Minors
The Oklahoma Department of Wildlife Conservation states that residents under the age of 16 and nonresidents under the age of 14 do not need licenses. The Oklahoma 2010-2011 Hunting Guide says that when hunting for big game, licensed adults must be at arms length from a minor; a licensed adult must be within sight and able to communicate with minors during small-game hunts. The ODWC offers youth hunting licenses for Oklahoma residents who are 16 and 17 years old. Resident Youth Combo Hunt/Fish licenses allow such minors to pay one price for permits allowing both hunting and fishing expeditions, but they may also purchase just an annual hunting license. Residents younger than 17 need additional permits to hunt during deer archery season, youth deer gun season and anterless deer gun season.
Nonresident Minors
Minors who are at least 14 need small-game hunting licenses, according to the ODWC. They may also purchase five-day small game hunting licenses, which allow them to hunt for five consecutive days, expire at midnight on the fifth day and are not valid for turkey or deer hunting. Five-day licenses don't cover turkey and deer hunting. Oklahoma has separate licenses for nonresidents hunting specific wildlife. All nonresident minors, no matter their age, must purchase furbearer licenses for hunting bobcats, raccoons, river otters and gray and red foxes. The state also has separate licenses for hunting antelope, elk, deer and bears, which nonresidents must purchase each season.
Land Access Permits
Residents and nonresidents, including minors, must purchase annual land access permits to hunt in the Honobia Creek Wildlife Management Area and the Three Rivers Wildlife Management Area. Residents exempt from the land access permit requirement include anyone younger than 18 on the first day of a calendar year and those 64 years old and older. The Honobia--Three Rivers WMA sits on 930,000 acres of land in the Ouachita National Forest and the Weyerhauser-owned timberland. Hunting in the WMA includes big game like deer and black bear as well as small game like quail, waterfowl, turkey and squirrels.
Hunter Education Courses
Hunter education courses teach students about hunting regulations for the state of Oklahoma, gun safety, wildlife management, hunter ethics and hunter responsibility. The courses consist of eight classroom hours or a home study course. Students need to designate about four to six hours of at-home work for home study courses along with four hours of classroom instruction. Oklahoma does not have age restrictions for these courses; minors must be able to understand the materials presented and pass a 50-question examination. The Oklahoma 2010-2011 Hunting Guide says that hunters who are 15 years old or younger hunting alone for small game need to carry their hunter education certification with them at all times.
Photo Credits
Thinkstock/Comstock/Getty Images