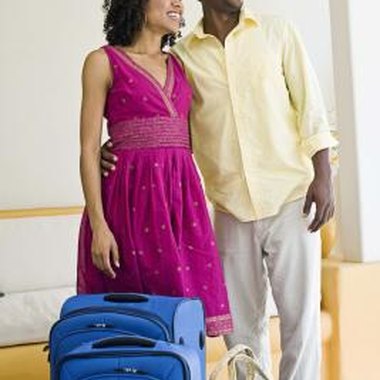 Nestled on the shoreline of Lake Ohrid, in southwestern Macedonia, Ohrid has a history dating back more than 1,000 years. From its earliest days, the city has provided a beautiful setting for visitors to enjoy, with scenic views and interesting attractions. This remains the case in modern times, with Ohrid one of the main tourist destinations in Macedonia.
Lake Ohrid
Lake Ohrid covers an area of more than 88,000 acres, earning it the nickname "Macedonia's Freshwater Sea." Ohrid stands in its northern shore, providing tourists with beautiful views of the lake. Visitors can also take to the water, with local ships and boats offering trips around the lake. Points of interest include Biljana's Springs at Ohrid, and Crn Drim River at Struga, around 8.5 miles from Ohrid. Seventeen different fish species, including trout, chub and carp, make the lake their home, providing fishing opportunities for visitors.
Beaches
For tourists who enjoy lounging in the sun, the shoreline of Lake Ohrid offers a number of beaches. In the Ohrid area this includes Kadmo Beach, and tourists can visit Kadmo Beach Club (kadmobeach.com). It offers sunbeds and parasols for relaxing. The more energetic can play sports on the beach or swim in the lake waters.
City Churches
The record books of 14th century traveler Evliya Celebi show that Ohrid once had 365 churches within its city boundaries, one for every day of the year. Many of these still stand, including the Holy Mother of God Perivleptos Church, built in 1295; the Church of St. Sophia, which dates back to the 11th century; and St. John Kaneo Church, constructed during the 13th century. These churches provide historic and scenic locations for visitors to enjoy.
Museums
The Institute for Protection of Cultural Monuments and the National Museum in Ohrid (ohrid.org.mk) houses many artifacts and objects from the history of the city and surrounding areas. It has a few locations in the city. The Robevs House, a building constructed in the 1860s, has archaeological exhibits, a display of items from the Robev family and pieces made by artists at the Ohrid Woodcarving School. The old Kliment Ohridski school houses the Gallery of Icons. This collection of paintings includes icons created during medieval times.
Points of Interest
Other interesting locations to visit in Ohrid include the Ancient Theatre. Constructed during the Roman period of occupation of the area, this outdoor amphitheater still hosts events in the city, such as concerts during the Ohrid Summer Festival (ohridsummer.com.mk). Other landmark sites include the Old Plane Tree, which has now stood in the city for more than 800 years.
Photo Credits
Jupiterimages/Brand X Pictures/Getty Images