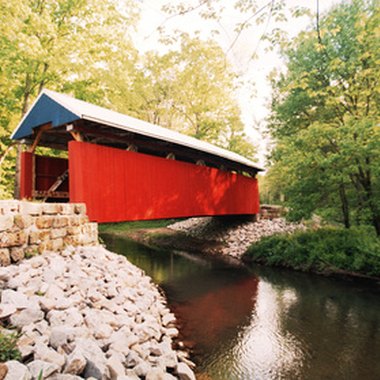 Although none of Ohio's national parks offers rental cabin lodgings, that does not necessarily mean a traveler intent on enjoying the great outdoors in the Buckeye State must camp or stay in a hotel. The Ohio park system has 15 parks spread throughout the state with rental cottages, providing the same private, comfortable lodging experience in the great outdoors.
Features
Most cottages in the Ohio state park system are rated according to their features. The standard type is the family cottage, which comes with two bedrooms, a full kitchen, living room, screened porch and climate control. Preferred cottages are a step up, with luxuries such as fireplaces and DVD players, while basic cottages are a step down, with no air conditioning. Only some cottages are specially fitted to be handicap accessible. Parks with cottages that accept pets also usually have hiking trails that are open to pets.
Hocking Hills State Park
Situated in southern Ohio between Columbus and Cincinnati, Hocking Hills State Park is riddled with caves, waterfalls and rock shelters. The park's 40 family cottages, pleasantly furnished like comfortable, non-distinct homes, are situated along a single lane down the road from Old Man's Cave. A hiking trail between that cave and Cedar Falls runs alongside the road leading to the cottage lane, and continues past Cedar Falls and farther south into the park, ultimately emerging at Ash Cave.
Maumee Bay State Park
Maumee Bay State Park is in northwestern Ohio on the shores of Lake Erie, and has 24 family cottages set in an area dotted with small ponds, between the park's wetlands trail region and its 18-hole Scottish links-style golf course. The end of the lane abuts the Mallard Club Marsh Wildlife Area, creating more outdoor opportunities. Maumee Bay is something of a resort destination, and in addition to its golf course the park has two lakeshore swimming beaches, fishing and boating, and serves as a base for hunters in the aforementioned wildlife area. Cottage guests receive automatic access to all of the park's facilities.
Mohican State Park
Located in east-central Ohio, Mohican State Park and the adjacent state forest cover more than 5,000 acres of protected area. The park has 25 rustic-themed, wood-paneled family cabins situated in a wooded area along the Mohican River. Four of the cabins are open to pets. The Pleasant Hill, Hemlock Gorge and North Rim trails create an interlocking network of hiking paths 4 miles long, and this network runs right through the area occupied by the park's cabins.
Photo Credits
jack's hollow bridge image by Thomas Sprader from Fotolia.com