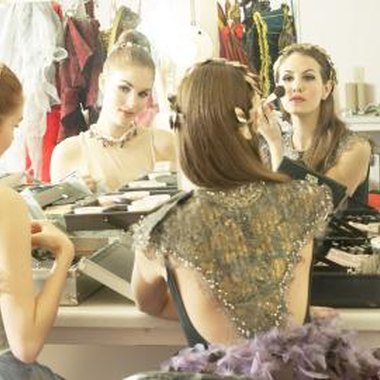 In New York City, Broadway theater, or simply Broadway, represents the highest level of stage theater in the U.S. However, Broadway is not the only source for good theater, and New Yorkers have several other options to take in stage entertainment, such as Off-Broadway productions and Off-Off-Broadway shows, which is best explained in comparison with other types of theater.
On Broadway
In New York City, Broadway connects theaters in Times Square and Lincoln Center, both of which are well visited by tourists. Times Square has the bulk of Broadway entertainment, with 40 historic theaters that hold a minimum of 500 seats each. Broadway productions are big-scale theater shows with budgets in the millions, headliners the likes of Bono and Twyla Tharp on the production and stories that feature Disney's "The Lion King" and Marvel's "Spiderman."
Off-Broadway -- One Tier Down
The definition of "Off-Broadway" has changed over the years, most recently (as of August, 2011), serving as a term established by unions and theater associations to create an industry standard by which all theater houses and actors abide. The standards affect how much actors and stage crews are paid and other benefits. The technical definition created for an Off-Broadway show is a theater production that follows the guidelines set forth in the trade union agreement and holds 100 to 499 seats.
Off-Off-Broadway Definition
The term Off-Off-Broadway signifies a theater production that is literally and figuratively far removed from the hub of the theater district and Broadway. By professional theater standards, Off-Off-Broadway shows are smaller than Off-Broadway ones, with 100 or fewer seats -- but there is plenty of gray in that definition since many productions in this category do not adhere to trade union guidelines and can have any number of seats. Some Off-Off-Broadway productions are affiliated with Actor's Equity, a theater union that funds several Off-Off-Broadway productions as showcases for professional members who want to be a part of a project they are passionate about.
Off-Off-Broadway Experience
Off-Off-Broadway productions run the gamut in terms of content and quality because they represent professional, semi-professional and even amateur stage productions. Tickets to these shows are affordable in comparison to Broadway shows, costing between $10 and $50. Off-Off-Broadway shows have smaller budgets and take place in smaller venues. Productions also tend to be smaller in scope and scale, focusing on plot and actor performance as opposed to flashy theatrics. This encourages stage producers and performers to be inventive and experimental, offering stories that have the capacity to connect with the audience in ways that big-budget theater cannot.
Photo Credits
Hemera Technologies/AbleStock.com/Getty Images