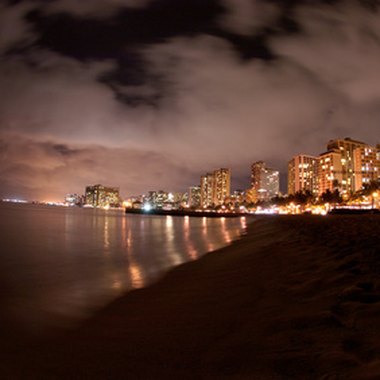 The glittering lights, great eating and posh surroundings of Honolulu sets the stage for appealing accommodations directly on the beach at Waikiki. The gleaming sands and gentle, rolling surf, usually populated by surfers and stand-up paddleboard users, provides endless opportunities for beach going, relaxing, people watching and recreation.
Moana Surfrider, a Westin Resort & Spa
The Moana Surfrider presents a classic return to old Waikiki with a contemporary twist. Built in 1901, the white hotel was surely one of the first Western-style accommodations directly on Waikiki Beach to welcome visitors to the beauty of this tropical setting. Today, it's a place of luxury amenities and was remodeled by Westin in 2007, incorporating a renovated lobby, new furnishings, carpeting, fixtures, paint and artwork. A walk through the gracious lobby from bustling Kalakaua Avenue takes you directly to the sands of Waikiki Beach. The Surfrider is one of three vintage landmark hotels — known as the grande dames — directly on the beach at Waikiki.
The Outrigger Waikiki on the Beach
The Outrigger Waikiki on the Beach offers deluxe accommodations right on the beach at Waikiki. With a rich heritage that includes the exclusive members-only Outrigger Canoe Club, the hotel also houses the famous restaurant Duke's, inspired by treasured surfing legend, Olympic swimmer, ambassador of aloha and Hawaiian Beach Boy Duke Kahanamoku. For oceanfront dining, the food is reasonably priced (as of October 2010, a cheeseburger and criss-cut fries was $10.95) and delicious. On Sunday afternoons, enjoy jazz or Hawaiian music from the beachfront stage. The Outrigger is a longstanding Honolulu tradition.
Halekulani
A visit to the Halekulani poolside area could well reveal the likes of international celebrities — as well as ordinary visitors — enjoying a respite beachfront at Waikiki. Guests like to hang out at the pool, marked with its famed orchid icon, watching the people strolling Waikiki or taking in the views of Diamond Head and the aquamarine seascapes. For more than a century, this hotel, whose name means "house befitting heaven," has welcomed guests who appreciate the graciousness and hospitality that the management makes a mission of perpetrating. In the rooms, you'll find amenities that include glass-blocked showers, custom furniture and marble vanities.
The Royal Hawaiian Hotel
The off-pink color and 1920s-era architecture showcases the carefully preserved Royal Hawaiian Hotel, queen of the so-called grande dame hotels of Waikiki. Since its construction in 1927, the hotel has welcomed royalty, dignitaries, celebrities and ordinary visitors alike. A recent renovation by noteworthy interior designer Mary Phillpotts gives the hotel lobby areas and rooms an updated look while paying homage to its past. Rooms feature crisp, white bedding and dark furnishings of tropical hardwoods. Enjoy a sunset signature mai tai at the Mai Tai Bar beachfront, one of Waikiki's must-do experiences.
Photo Credits
waikiki beach at night image by NorthShoreSurfPhotos from Fotolia.com