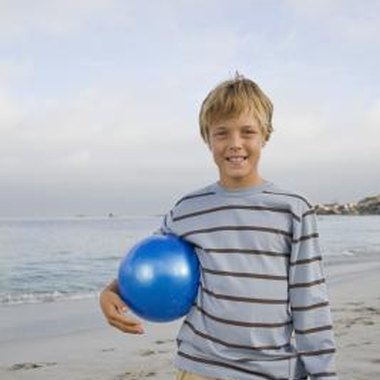 Many of Virginia Beach's accommodations are right on the beach, and even travelers on a tight budget can enjoy oceanfront lodging. Many of the accommodations welcome pets and many also allow children to stay for free with their parents. Ask the properties about discounts, such as those for travel club members or business travel groups. Things to do in Virginia Beach include biking, walking, relaxing on the beach and, of course, taking a dip in the refreshing ocean waters.
Beach Hotels
The list of Virginia Beach hotels goes on and on. One oceanfront hotel is The Cavalier Hotel, where guests enjoy a private beach, five restaurants, indoor and outdoor Olympic-size pools and a fitness center. Kids enjoy special Camp Cavalier activities here. The Dolphin Inn is an all-suite hotel, right in the thick of the beach action and near the boardwalk. Guests enjoy seafood in the restaurant at the Ramada Oceanfront Resort, where all rooms and suites have private balconies that overlook the ocean. Other amenities include an indoor pool, Jacuzzi, fitness center and bike rentals.
All-Suite Hotels
For those who want plenty of space to spread out, suites are the ticket. Station One Hotel is entirely one-bedroom suites featuring living rooms and separate bedrooms. Rooms include a small kitchen with a microwave, stove, oven and small refrigerator. An outdoor pool, hot tub and sundeck are other perks. SpringHill Suites is on the boardwalk and all rooms are suites that have two flat-panel televisions, a sofa bed and a kitchenette. At Barclay Towers Resort Hotel, guests relax in an all-suite, luxury property. All suites face the ocean and have king beds and a queen-size sleeper sofa. Kitchens have microwave, stove, oven, coffeemaker and refrigerator. Other luxuries include a spa with sauna, steam room, hot tub and exercise room.
Motels
For those seeking more economical, scaled-down accommodations, motels can be a perfect fit. Virginia Beach has numerous choices, such as the Belvedere Resort Motel, which has refrigerators in all rooms and bicycles for guests. At the Seahawk Motel, all rooms have small refrigerators and private balconies with ocean views. There also is an indoor pool complete with kiddie pool. Chain motels on the oceanfront include EconoLodge, with two locations, and Travelodge.
Resorts
Turtle Cay Resort consists of cottage-style suites that are large in both size and amenities, including fireplaces for those chilly days at the beach. Most bathrooms have Jacuzzi tubs, and rooms feature kitchenettes or full kitchens. The resort also has a spa and fitness center. At the Virginia Beach Resort Hotel and Conference Center, guests enjoy rooms with refrigerators, microwaves and wet bars. The property's two restaurants offer both casual and fine dining. Additional amenities include a health club, whirlpool, sauna and indoor/outdoor swimming pool. It goes without saying that the Boardwalk Resort Hotel and Villas gets its name from the famed nearby boardwalk — it is adjacent to the boardwalk. Inside are one-, two- and three-bedroom suites. Visitors enjoy an indoor pool, fitness center and restaurant.
Photo Credits
Jupiterimages/Goodshoot/Getty Images