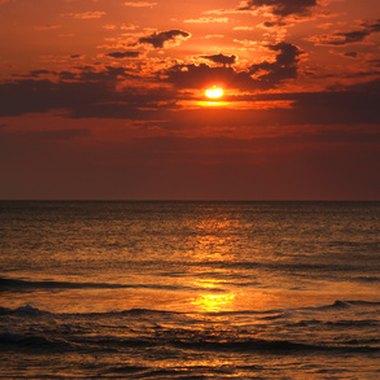 With beautiful, wide sandy beaches, a three-mile-long boardwalk for strolling or bike riding, and a vibrant nightlife, Virginia Beach has much to offer visitors of all ages. Virginia Beach is also blessed with a large variety of oceanfront hotels and suites. Visitors to Virginia Beach choose to stay either in the heart of the action in the Beach Street area, or in a hotel or suite in the quieter South or North Beach areas.
Beach Street
Virginia Beach's oceanfront is divided into three main sections, with the Beach Street area having the greatest concentration of shops, bars and restaurants. If you enjoy being in the middle of the action, book a hotel in this location, which encompasses the blocks of Atlantic Avenue between 17th and 25th streets. For instance, if you stay at the Comfort Inn and Suites, you can walk out of your hotel into the middle of Virginia Beach's version of a block party where on summer nights, strolling street performers and musicians amuse the crowds. In addition, three of the boardwalk's six oceanfront stages, which feature live music acts, are in the Beach Street area.
South Beach
If you want a less crowded, less frenetic locale than Beach Street, choose a hotel or suite in the South Beach section of Virginia Beach. South Beach encompasses the region of Atlantic Avenue between 2nd and 16th streets. South Beach's Schooner Inn -- which is located at 215 Atlantic Avenue -- is also conveniently located near Rudee Inlet, where you can rent jet skis, parasail or book a spot on a fishing boat.
North Beach
The area north of 25th Street is known as the North Beach section of Virginia Beach. You will find a number of high-end hotels in this area. Because the boardwalk ends around 39th Street, guests staying in hotels north of this point find an even more relaxing atmosphere. One of Virginia Beach's most famous hotels, the Cavalier Hotel, which is set on 18 acres and has a private beach, is located in the North Beach area.
Pet-Friendly Places
If you want to bring your canine friend to the beach, book at one of Virginia Beach's pet-friendly oceanfront hotels. The Wyndham Resort, which is located at 57th and Atlantic, has five designated rooms for pets and is located away from the crowded boardwalk area. Dogs are welcome on Virginia Beach's public beaches before Memorial Day and after Labor Day weekends. During the summer season, dogs are allowed on the beaches north of 42nd Street before 10 a.m. or after 6 p.m.
Photo Credits
the sunrise at virginia beach image by Gary from Fotolia.com