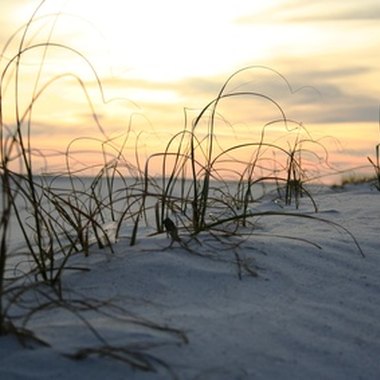 The coast of Georgia is a 100-mile stretch that runs between the Savannah and St. Mary's Rivers. The area is popular for its unspoiled beaches, small towns lined with cobblestone streets, and seafood specialties like Brunswick stew and soft-shelled crabs. Accommodations along the Georgia oceanfront can satisfy travelers seeking nature, adventure, relaxation, sporting and a whole lot more. Best of all, there's an oceanfront property to fit most any budget.
Moderate
The DeSoto Beach Hotel is the only beachfront hotel on Tybee Island. The property's 37 guest rooms were renovated in 2010 and feature interiors with cream walls and bold carpet and bedding in a green and teal color scheme. Amenities include a beachfront swimming pool and a game room. Local activities give visitors a chance to fish, stroll quaint shopping areas, explore historic forts and museums, and enjoy the vibrant nightlife. The island was voted the Healthiest Beach in the U.S. by "Health Magazine" and offers plenty of health-conscious eateries just steps away from the hotel.
Chain
The recently renovated Jekyll Oceanfront resort is a member of the Clarion hotel family, spread across 15 acres of sandy beach. Interiors of guest rooms are tastefully decorated with traditional furniture and a color scheme of burgundy and green. Amenities include a deluxe swimming pool and clubhouse, fitness center and day spa. Extras the whole family will enjoy include a game room, children's playground, board games, shuffle board and volleyball courts, and barbecue areas. There are two bars — one poolside and a full-service restaurant that has an all-you-can-eat seafood buffet every Saturday night.
Luxury
The Sea Island resort located near the Florida border on Georgia's southern coast has received a five-star rating from Forbe's and a five-diamond rating from AAA since 2001. "Golf Digest" calls Sea Island one of the 50 best golf hotels -- there are two 18-hole courses. Rooms at the resort's Lodge at Sea Island Golf Club overlook the Atlantic ocean and and have personal butler service 24 hours a day. The exterior of the property is styled like an English country manor, and interiors feature marble bathrooms and rich wood accents. The resort's Georgian Room restaurant received five stars from Forbe's.
Secluded
"Conde Nast Traveler" picked Cumberland Island among the top 10 beaches in the U.S. and there's just one hotel to stay while visiting — the Greyfield Inn. A ferry shuttles guests to the Carnegie mansion situated on the undeveloped barrier island. The historic structure was built in 1900 and converted to a hotel in 1962. Rooms are furnished in a traditional style with mahogany wood and floral-print upholstered furniture. Meals at the hotel are included in the room rate. On the hotel's 18-mile surrounding beach, nature lovers may encounter armadillos, otters, minks and more than 335 bird species, including as many as 20 considered endangered.
Photo Credits
sandy beach scene on pensacola beach image by Edward Cooper from Fotolia.com