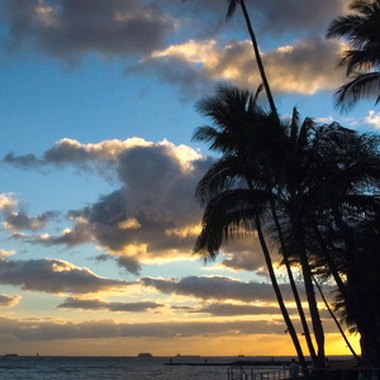 Nicknamed the "Gathering Place," the island of Oahu presents a cornucopia of tropical treasures. From the lush rugged cliffs of the Ko'olau Mountain range to the big wave riding near Haleiwa town on the North Shore to the shimmering sands of Lanikai Beach, Oahu offers the visitor much beyond the bustle and crowds of Waikiki.
The Kahala Hotel & Resort
In the tony region of Kahala in East Honolulu, The Kahala Hotel & Resort presents a gracious hotel steeped in heritage and class. This legendary resort has hosted dignitaries, presidents, royalty and celebrities. Featuring 338 rooms, a fitness center, spa and private lagoon with dolphins, the Kahala Hotel & Resort offers a memorable and relaxing beachfront location and Hawaii-style accommodations well away from the hustle of Waikiki. A favorite of locals for formal gatherings, weddings and parties, the Kahala Resort embodies the old-time Hawaiian hospitality reminiscent of another era.
Turtle Bay Resort
Every guest room at Turtle Bay Resort, located in a secluded spot on the North Shore of Oahu, features ocean views of Oahu's famed surfing capital. During the winter months, huge ocean swells arrive, providing venues for thrilling professional surfing events. Golf, horseback riding, tennis, swimming pools, hiking trails and bicycling is also available to guests of the Turtle Bay Resort.
JW Marriott Ihilani Resort and Spa
Located within the resort area of Ko Olina, the JW Marriott Ihilani Resort and Spa is situated in a secluded beach cove, offering its guests a quiet, relaxing retreat away from the city metropolis of Honolulu. Tennis courts, championship golf, snorkeling, enjoying the beach and sportfishing are on the agenda for guests of the Marriott. Large ballrooms make the resort ideal for conferences set against the backdrop of lush gardens and the blue Pacific.
Santa's by the Sea
The small, family-operated lodge on the North Shore offers a quaint traveler's retreat. This 750-foot guesthouse is open to one party at a time, creating a down-to-earth setting in which to enjoy the beauty of the North Shore—including empty beaches and 20-30-foot swells in the winter months. The house, stocked with coffee, cereals, tea, bread, muffins, eggs and milk, also comes complete with free Internet, free long distance calling, washer and dryer and two LCD TVs.