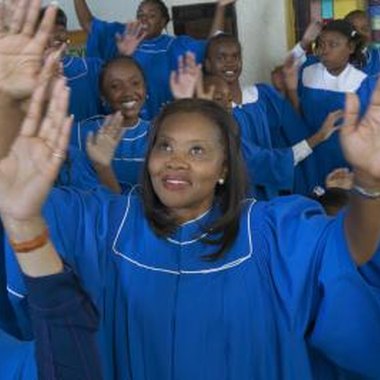 "O Children," written and performed by Nick Cave and the Bad Seeds, is the final song on the "Lyre of Orpheus" half of the 2004 "Abbatoir Blues/Lyre of Orpheus" record. The ballad lasts nearly 10 minutes and encompasses many of Cave's common themes: religion, cruelty, death and redemption.
"Abattoir Blues/The Lyre of Orpheus"
"Abattoir Blues/The Lyre of Orpheus," coming on the heels of 2003's disappointing "Nocturama" and the departure of longtime guitarist Blixa Bargeld, seemed like a fresh start for Nick Cave and the Bad Seeds. The first disc, "Abbatoir Blues," contains the bulk of the collection's punishing rock tunes while "The Lyre of Orpheus" features the more elegant, quiet songs. "O Children" closes out the album, a ballad that builds to a crescendo with a choir of backing singers, featuring some of Cave's most haunting lyrics.
Sins of the Father
"O Children" takes the perspective of an older character who is perhaps dying and speaking to his children. He is looking back on his life and realizing that he and other adults have made the world a horrible place. Through the lyrics, he is trying to warn his children and apologize for the mess he has created, but knows deep down that the children are destined to make the same mistakes because the sins of the father shall be visited on the sons.
"Amazing Grace"
"O Children" ends with a swelling gospel section that recalls the traditional tune "Amazing Grace." "Hey little train! Wait for me!/ I was held in chains but now I'm free," Cave sings, but this is not a hymn of salvation. Instead, Cave's narrator is hoping that he can still be saved despite the horrible things he has wrought upon the world. "Hey, little train! Wait for me/ I once was blind but now I see / Have you left a seat for me?" he asks, unsure that he will be going to heaven after all.
Harry Potter
Mainstream music fans are likely familiar with "O Children," as it played a prominent role in "Harry Potter and the Deathly Hallows Part 1." While hiding from Voldemort, Harry and Hermione waltz to the song. According to the "Los Angeles Times," Cave's song was chosen over tunes by musicians ranging from Radiohead to Spiritualized to Otis Redding for the scene. Cave's songs are prominently placed in other movies. His "Red Right Hand" is featured in all of the films in the "Scream" series and his "People Ain't No Good" shows up in "Shrek 2." "Red Right Hand" was also featured in an episode of "The X-Files."
Photo Credits
Digital Vision./Digital Vision/Getty Images