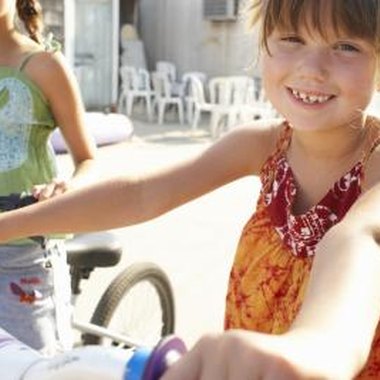 While widely known for its vehicle traffic, New York City is also known for its thriving bike culture. Many jump on their bikes for a ride when the city opens its streets during monthly or annual bike parades. In these parades, you can take your pet for a ride, bring the kids and transform your bikes into festive floats or champion environmental sustainability amid a throng of friends.
Dog-Friendly Parades
Parade your bike and your pooch around at a dog-friendly parade. While events vary, there's an annual Doggie Pedal Parade (times-up.org) organized by Time's Up!, a New York City-based environmental organization. The parade takes dog owners --- who must put their four-footed friends in a basket or trailer attached to a bike --- around Manhattan while pedaling to tunes from "the music bike" and reveling in the benefit of adapting bicycles to transport pets. The parade ends back at the park for snacks and drinks. Those without pets can still join the ride, and those without bikes can still mingle at the after party. Anyone petless and wanting can adopt a pet from any of various animal rescue groups who also attend.
Bike Art Parades
Turning a bike into a work of art is one reason to parade it around the city. Various neighborhood groups may put on a local parade, but one you can usually count on is the Lower East Side's Kids Art Bike Parade (evccnyc.org). The East Side Community Coalition puts on this parade in its effort to sustain the cultural, diverse and artistic character of NYC's East Village, where bicycles find a welcoming home. The 2011 ride, which was the fourth held, included co-sponsorship from Bike Bonanza NYC, and helped kids learn bike safety, fit their heads for helmets, and gave away free decorations to transform plain old bikes into kinetic works of art.
Recycle-Friendly Bike Parades
A work-of-art bike that shouts a message of sustainability is yet another reason to roll in a parade. The Long Island City Bike Parade (socratessculpturepark.org) gives such an opportunity. Those who ride this parade are challenged to explore the creative and functional potential of using recycled materials to repair and beautify bikes. The organization Bike New York and the NYC Department of Transportation help out with certain pragmatics, such as helmet fittings and safety tips, at Hallets Cove Playground on Vernon Boulevard in Queens. Registration, bike decoration and parade exodus traditionally start at Socrates Sculpture Park. Even better, the organization Recycle-A-Bicycle offers bike swaps to those who want to exchange their gently used rides for another. As of 2011, this annual parade was last held on June 11, 2011.
Social Activism Bike Parades
What do you get when you mix bicycles, social activism and parading festivity? In NYC you could get quite a variety. But one parade in this category stands out --- the Critical Mass ride (times-up.org) that starts at 7 p.m. on the last Fridays of each month at several locations, including Union Square North, Washington Square Park, Tompkins Square Park and Madison Square Park. The critical mass began as a way for bike lovers to gather and ride in a safe, community-bound environment. Later, especially as the ride gained popularity and biking safety became a greater concern, it served as a demonstration for safer bike infrastructure in NYC and for nonpolluting transportation. About critical mass, organization Time's Up! says: "Make sure to bring the appropriate lights and bells."
Photo Credits
Christopher Robbins/Valueline/Getty Images