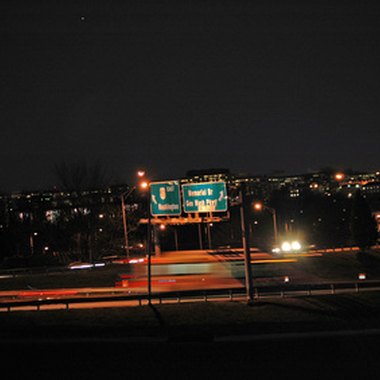 Northern Virginia usually refers to the counties of Fairfax, Loudoun, Arlington and Prince William, along with the independent cities of Alexandria, Falls Church, Manassas Park, Manassas and Fairfax. The area is considered part of the greater Washington, D.C., metropolitan area, and portions of it are connected to the nation's capital by Metro, D.C.'s rapid transit system. Some people visiting the D.C. area prefer to find lodging in a northern Virginia hotel because accommodations there are often cheaper.
Arlington, Virginia
Travelers flying into Washington's Reagan National Airport should check out the Arlington area of northern Virginia for lodging options. Many hotels in Arlington, such as the Crystal Gateway Marriott, offer complimentary airport shuttle service to and from Reagan National and are close to Washington Metro stops. This 11-floor Marriott actually goes one step further and offers direct access to the Crystal City Metro station via an underground passage -- so you'll never have to step outside if the weather is bad.
Alexandria, Virginia
Looking for a special trip for your pet? Then book one of the pet-friendly Morrison House's 45 rooms and enjoy Alexandria's Old Town section, which is listed on the National Register of Historic Places and was an important seaport during colonial times. The elegant Morrison House, which made the "Travel + Leisure" list of "500 Best Hotels in the World" list, is not only a great starting point from which to see Alexandria, but also is only 10 minutes from D.C. Remember to ask for the hotel's special pet package
Reston, Virginia
Visitors to Northern Virginia who arrive at Dulles International Airport will find a number of hotels in the area surrounding the airport. Most of the lodging can be found in suburbs such as Sterling, Chantilly or Herndon. Travelers interested in a more city-like setting -- with amenities such as restaurants, shopping and bars just a short stroll from their hotel rooms -- should pick the Hyatt Regency in the bustling Reston Town Center. The 518-room Hyatt offers a complimentary shuttle service to and from Dulles Airport.
Tysons Corner, Virginia
Tysons Corner, Virginia, lies approximately halfway between Dulles International Airport and downtown Washington. It is home to Tysons Corner Center, the ninth-largest mall in the United States in 2010; the upscale Tysons Galleria Mall; and the 398-room Ritz-Carlton, Tysons Corner. Guests to the Ritz-Carlton will find that this luxury hotel is conveniently located next to the Tysons Galleria and close to many fine restaurants. Amenities at the Ritz-Carlton include an on-site spa.
Middleburg, Virginia
Middleburg, Virginia, in Loudoun County, is a charming town that was established in 1787. Former Pres. Kennedy and his wife, Jacqueline, loved this area and had a summer home in Middleburg. Discover Middleburg's charms for yourself and book a room at The Red Fox Inn, which has been in existence since 1728, before the town was formed. During the Civil War, this historic inn's bar area was used as a field operating site. Today, guests can choose from one of its 14 guestrooms, at least one of which is supposed to be haunted.