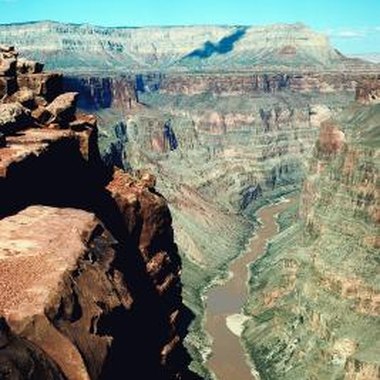 The wide-angle view from the North Rim of the Grand Canyon stretches across the renowned expanse, revealing glimpses of the Colorado River at the bottom. Grand Canyon National Park hosts an average of four million visitors each year, but only a tenth of those will travel to the remote North Rim. Averaging 8,000 to 8,800 feet above sea level, the North Rim's weather tends to comfortable days and cool nights. Three venerable lodges provide the most convenient accommodations.
Grand Canyon Lodge
The only hotel on the north rim inside Grand Canyon National Park, Grand Canyon Lodge's cabin accommodations and motel-style rooms present a prime example of "parkitecture," the characteristic reference to National Park Service style. This National Historic Landmark at Bright Angel Point stays open from mid-May to mid-November and offers immediate access to the North Kaibab Trail, the only maintained trail at the North Rim that descends into the canyon. The National Park Service recommends making reservations six months to a year in advance.
Kaibab Lodge
Located in the North Kaibab National Forest just five miles from the park's northern entrance and 18 miles from the North Rim, the Kaibab Lodge provides a summer-camp atmosphere with cabin buildings in various states of repair. Built in the late 1920s, the lodge may have been on a working cattle ranch in its earliest days. Located at 8,770 feet, the property experiences cool weather even in August, and the lodge's website recommends that month as the best time to visit.
Jacob Lake Inn
This family establishment started as a two-room roadside eatery serving the first tourists arriving at the North Rim by automobile. Expanding through the years into more of a resort, the Jacob Lake Inn maintains motel- and hotel-style guest rooms in two separate buildings and cabins of various sizes across the property. With a gift shop, country store, bakery and service station on the property, guests can depart on an early morning drive to the North Rim, located 44 miles away, with everything they need for the day.
Neighboring Towns
The usual roster of chain hotels and motels operate in the neighboring towns of Fredonia, located 77 miles northwest on Arizona State Highway 67; Kanab, seven miles past Fredonia just across the Utah border; and Marble Canyon, 82 miles to the northeast. The main access to the northern park entrance, Highway 67 remains open through mid-October, with efforts to keep the road clear continuing into December, weather permitting.
Photo Credits
Jupiterimages/Photos.com/Getty Images